The July 2016 issue of our quarterly magazine NAOSHIMA NOTE has been published.
The July 2016 issue of our quarterly magazine NAOSHIMA NOTE contains a special feature about "Teshima 8 Million Lab," our latest permanent facility which opened in the Kou district of Teshima island on March 20th, 2016.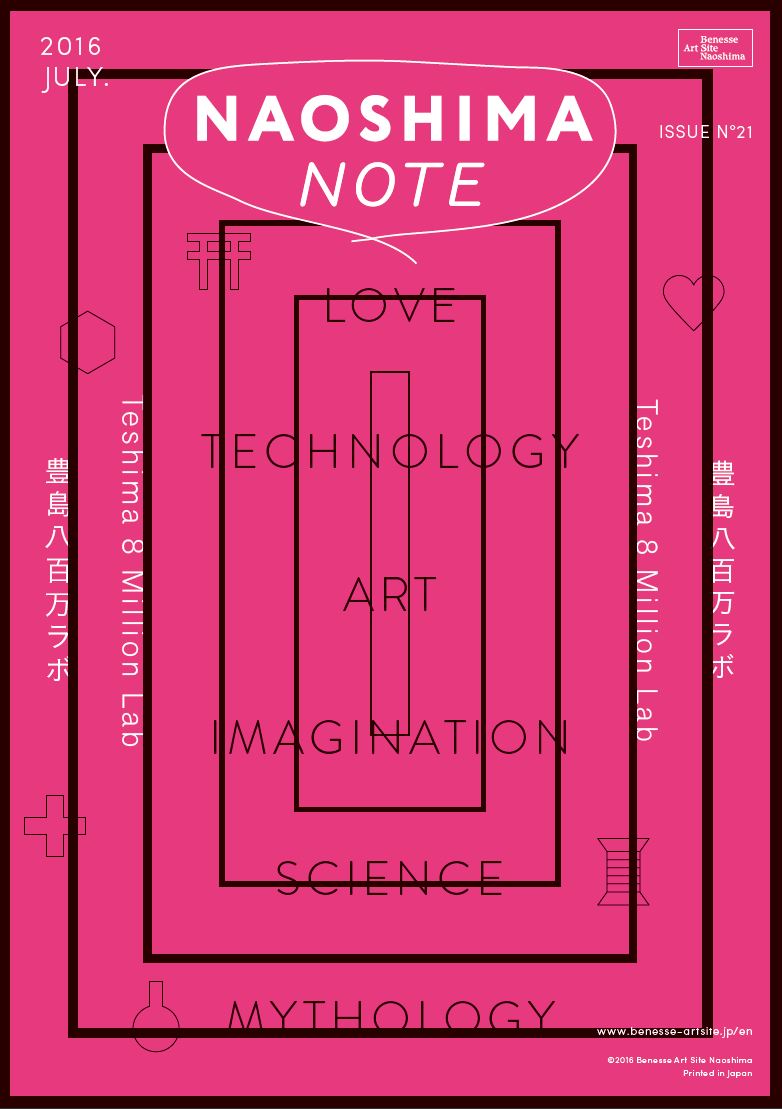 On Teshima island, Benesse Art Site Naoshima presents works of art that explore the fundamental theme of "Life and Death." The latest addition is Teshima 8 Million Lab by artist Sputniko!. In it, the artist suggests a possible "future" defined by science and technology, through the medium of art.
As times change, we are constantly forced reexamine our ideas and views about "life and death." Teshima 8 Million Lab raises questions about social values, beliefs and attitudes that may alter our assumptions about what the future will be like. This issue of NAOSHIMA NOTE features Teshima 8 Million Lab, including an introduction to the facility and artwork, as well as a conversation between artist Sputniko! and Yoshimi Yashiro, associate professor at Kyoto University's Center for iPS Cell Research and Application. In it, they discuss the work from the viewpoint of life science.
The column "Opinion - Thoughts on the Local Community" introduces the various programs to which the Fukutake Foundation provides financial support. In this issue, the column focuses on Kanayo Ueda, "poetry entrepreneur" and director of the NPO "COCOROOM." Her poetry projects began in 2003 at "Festival Gate," an entertainment complex supported by both public and private sectors in Osaka city. Due to changes in Osaka city's cultural policy, she relocated to Kamagasaki, in 2008. Ueda has focused her attention on the elderly men of Kamagasaki, and learned a great deal about Japanese modern history. Inspired by her encounters, she established "Kamagasaki Art University" which offers free classes for the townspeople. A participant of the "Yokohama Triennale 2014," Ueda recently initiated a project called "Drifting Kama Gei" in which she and the elderly men from Kamagasaki visit schools in the local Nishinari Ward of Osaka, to which Kamagasaki belongs. She also launched a project called "Cocoroom Cafe Garden Guest House." In this column, Ueda writes about the social issues of Kamagasaki which she learned about from the townsmen participating in her program, various projects she has launched in the past, and her future plans.
You can access the digital version of NAOSHIMA NOTE here.