Fukutake House "Meeting Asia / Meeting Artists: Heri Dono"
During the Setouchi Triennale 2019, at Fukutake House, an exhibition entitled "Visible Soul" which introduce some of the collection of contemporary Asian art of Benesse Art Site Naoshima, is held. On April 26th, 2019, the first day of the Setouchi Triennale 2019, a talk event with Heri Dono, an internationally renowned Indonesian artist was held with some of his works on display in the exhibition space. Fifteen university students who participated in the event listened to what the artist had to say with rapt attention.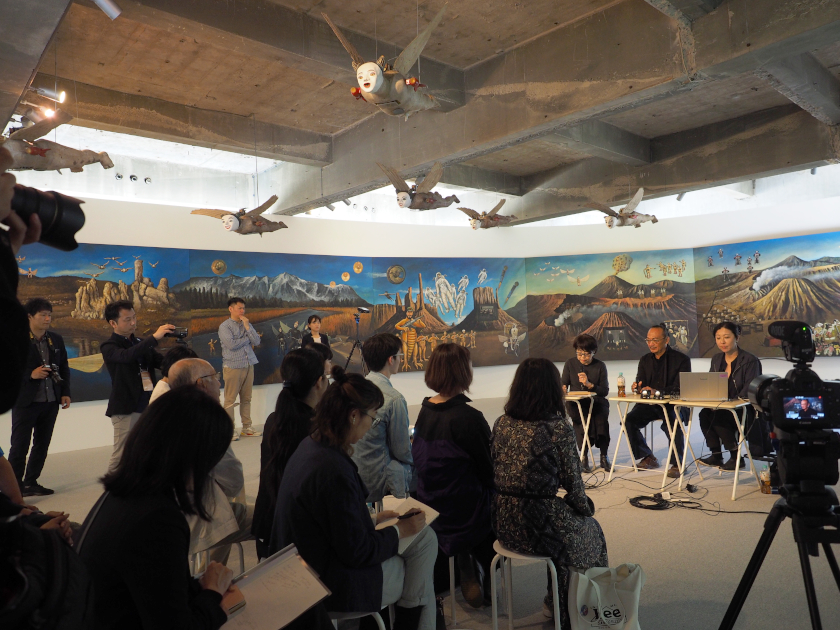 Talk event in art space with Heri Dono's works exhibited (Photo: Hisashi Miura)
"We hope you would further grasp the ideas and the messages behind the artworks by meeting with the artist."
At the start, Akiko Miki (International Artistic Director at Benesse Art Site Naoshima), the curator of the exhibition, explained that the talk event this time was planned to focus on learning, since the Fukutake House venue used to be an elementary school and university students were invited to participate for this reason. She continued. "Since the 10-piece set of Heri Dono's works on display, 'The Odyssey of Heridonology,' has most of Heri Dono's works of performances and installations built into it, his career really stands out strongly. Today, Heri Dono will be talking about how he chose the life of an artist and became active in this field. Also, we hope you would further grasp the ideas and the messages behind the artworks by meeting with the artist. "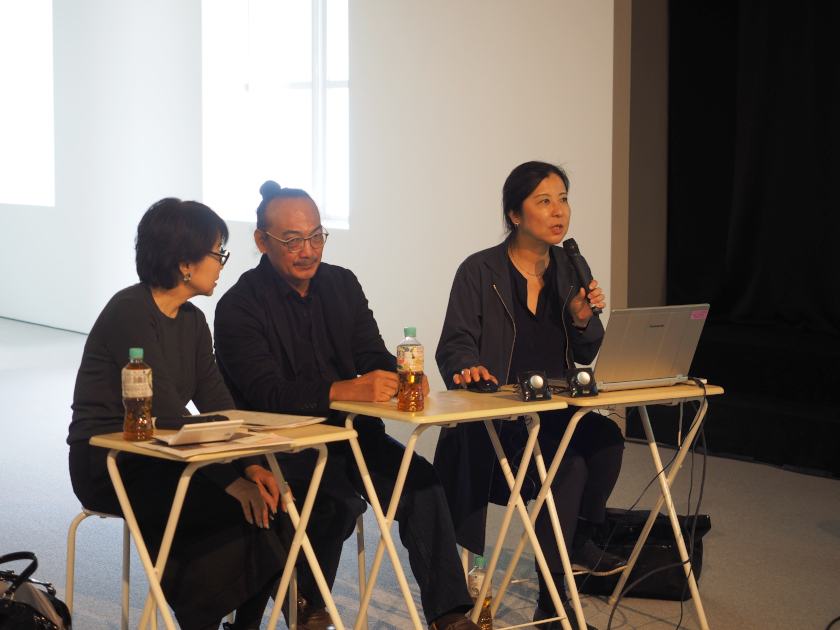 Right: Akiko Miki, Center: Heri Dono (Photo: Hisashi Miura)
"Expressing myself through art was more important than a diploma from art university."
Heri Dono's talk started with some stories from his early childhood. Although his family was not by any means wealthy at that time, he had the chance to visit the residence of President Sukarno (Indonesia's the first president) due to his father's job, where he encountered superb artworks.

In elementary school, his teacher asked the class, "What do you want to be when you grow up?" His classmates gave the standard answers, occupations like engineer, doctor, or pilot, and he was the only one to answer, "I want to be an artist." This shows how much he loved to draw in childhood, but apparently his grades in art class in elementary, middle, and high school were "atrocious." After graduating from high school, he began attending ASRI (currently known as: Indonesian Institute of the Arts), but he says his grades in art courses still weren't very good. He was enrolled in ASRI for 7 years from 1980 to 1987, but he chose to drop out with just 3 months left until his graduation.

Heri Dono described his reasoning for this decision as follows. "I'd made the decision to live my life as an artist, so having a certification like that graduation diploma wasn't a big deal for me. The most important thing was to pursue beauty and to express myself through art." He also used the expression "drop out = drop in" to describe that time in his life. "From the moment I dropped out of ASRI, that was when I really started immersing myself in beauty (drop in)."

He also looked back on his time studying at ASRI. "I think those 7 years taught me that studying art really is the pursuit of beauty." Although he made the decision to drop out of ASRI back then, in recent years he has been welcomed back as a guest lecturer.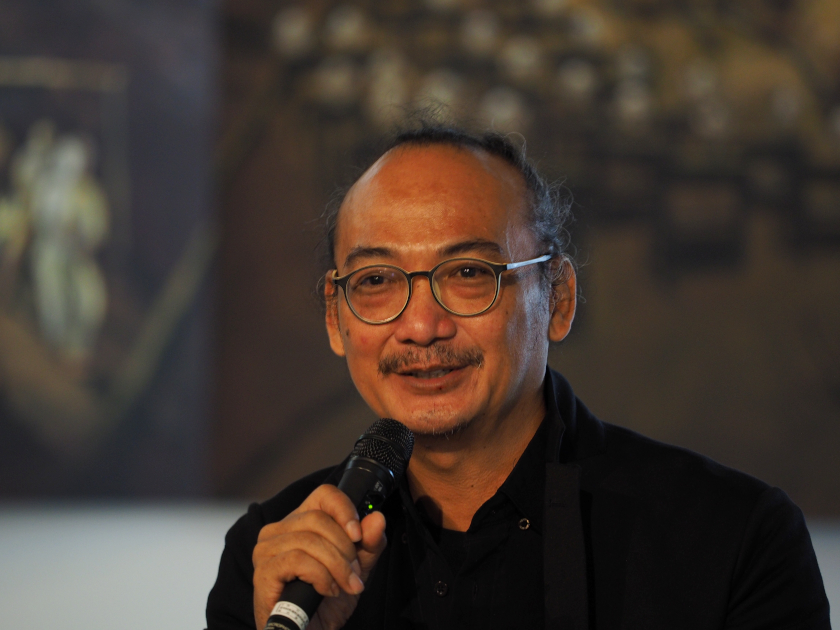 Heri Dono looked back on his way of life as an artist together with a collection of past photos. (Photo: Hisashi Miura)
"Europeans thought that only their own works were contemporary art."
Starting in 1991, Heri Dono took a long trip to Europe. Once there, he faced prejudiced views about Asian art held by people working in the art field in Europe. This was also evident in the way his works were perceived.

These Europeans didn't think of his work as contemporary art, but rather a celebration of the distinctive colors and characteristics of his home country Indonesia, and they exhibited it at ethnographic museums rather than art museums several times.

Heri Dono commented on this time. "Europeans though that contemporary art was something they had created, and that only their own works were contemporary art." He felt that this perception was a hindrance to truly understanding the concept of his works.

In spite of this environment, he continued to express himself through art. Through these efforts, after a number of other exhibitions, Heri Dono's works were finally exhibited at one of Europe's contemporary art museums, Modern Art Oxford (in the UK). According to him, this was one of the developments which made him feel that the concept of his works was truly being understood in Europe.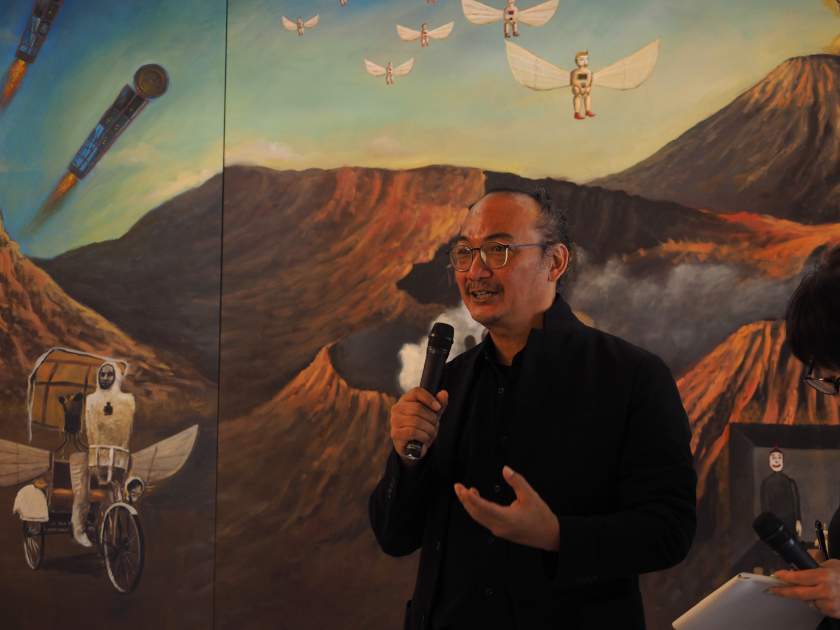 Heri Dono standing in front of his works and sharing his message with the participants (Photo: Hisashi Miura)
"I want you to feel there's no distance between nature, art, and me."
At the end of the event, the participants appreciated the works on display at Fukutake House, "The Odyssey of Heridonology" (painting) and "Angels Fallen from the Sky" (installation), with the artist. Akiko Miki asked, "What do you want the people who see your works to take from them?" Heri Dono's answer was as follows. "I guess you could say that all of us here in this space where my art is being exhibited are all a part of the works and the installation. The angels hanging from the ceiling ('Angels Fallen from the Sky') are a symbol of hope that also produce a sense of a bright future through the atmosphere they create. Together with that atmosphere, I hope all of you will take an interest not only in art but also in the natural scenery in your surroundings. Then, I hope you'll get a sense of the way humans don't just exist in the worlds of art or nature but instead are a part of both at the same time. Also, I want you to feel there's no distance between the outside (art and nature) and your own self. Then, I hope you'll all remember that feeling."

After the event, one of the university students who took part in the event, Nao Kanada, talked about the experience. "By hearing about the things Heri Dono experienced and though firsthand, I really feel like his works have taken on an incredible depth for me, and I can see them from a new perspective." For the participants, hearing about Heri Dono's experiences in his own words may have stimulated them to think about the questions within his works.

Fukutake House is a place that takes some time to reach, and you experience the constantly shifting sunlight and the colors of Setouchi and the topography of Shodoshima Island with all 5 senses on the way. It's also a place with a calm atmosphere where you can spend time really getting to know works of art one by one. How about stopping by and experiencing the lack of distance between yourself and the "outside (art and nature)" that Heri Dono talked about?
<Asia Gallery "Visible Soul - Around the Asia Collection of Benesse Art Site Naoshima">
Dates: During the Setouchi Triennale 2019 event
(Spring: April 26 - May 26, Summer: July 19 - August 25, Fall: September 28 - November 4)
Hours: 9:30 a.m. - 5:00 p.m. (no entry after 4:30 p.m.)
Admission: JPY510 (free for children under 15)