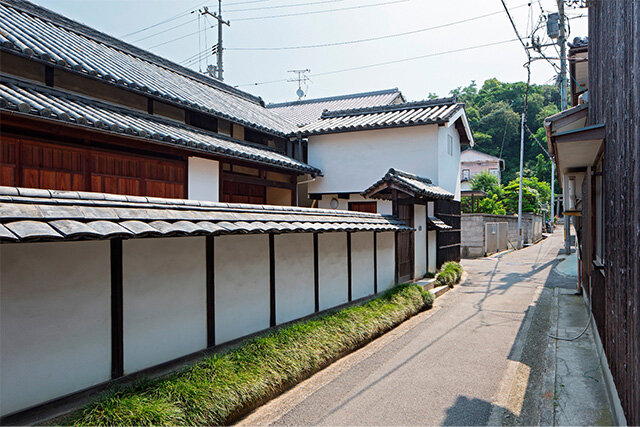 Art House Project
The Art House Project is an art project underway in Naoshima's Honmura district. It began in 1998 with Kadoya, and currently comprises seven locations: Kadoya, Minamidera, Kinza, Go'o Shrine, Ishibashi, Gokaisho, and Haisha. In this project, artists take empty houses scattered about residential areas and turn the spaces themselves into works of art, weaving in history and memories of the period when the buildings were lived in and used. Going from one of the houses to another, visitors pass through the Honmura district, where everyday life unfolds around them, in the process not only engaging with works of art but also sensing the layers of time and history interwoven in the community and the fabric of local people's lives. A notable feature of the Art House Project is that because viewing it means traversing a zone of daily life, it acts as a catalyst for interaction between visitors and local residents, giving rise to many a memorable episode. A truly organic project that changes day-to-day, it has evolved to present a new model of community, characterized by positive interaction between urban and rural, young and old, residents, and visitors.
Hours:

10:00 am - 4:30 pm
* Minamidera Last admittance 4:15 pm
Closed:

Mondays
* Open on Mondays for national holidays but closed the next day.
Open Days Calendar
Admission:

Multi - Site Ticket for six art houses, excluding Kinza JPY 1,050
Single - Site Ticket for one art house, excluding Kinza JPY 420
* Free admission for children of 15 and under.
*Kinza is an artwork accessible by reservation only.
*Making reservations for Kinza(Reservations unaccepted for other 6 art houses)
Ticket Sales:

Honmura Lounge & Archive
Inquiries: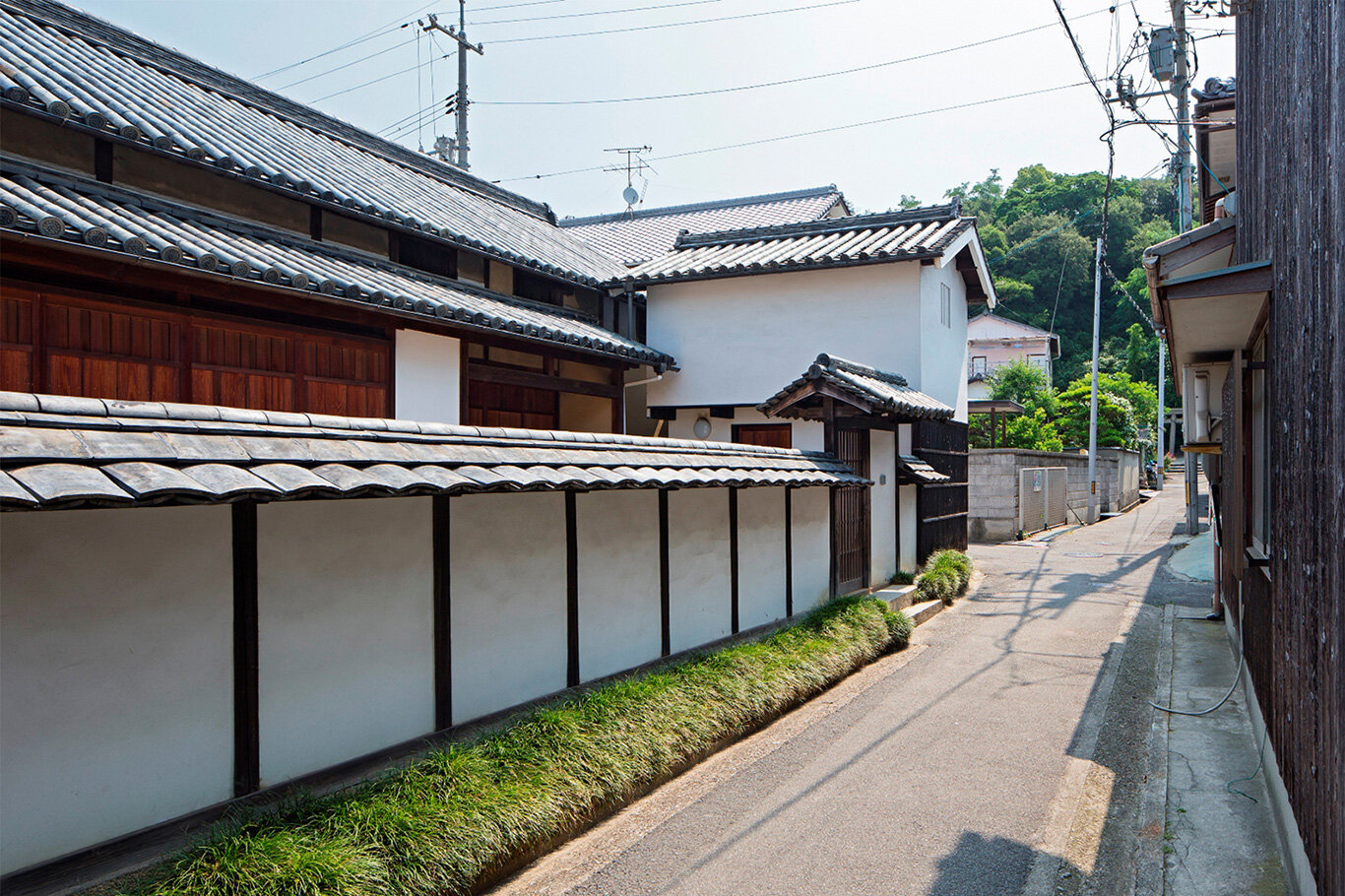 Honmura Lounge & Archive
Honmura Lounge & Archive was once used as an agricultural cooperative supermarket. Most of the basic architecture was preserved, and space was designed by the architect Ryue Nishizawa. In addition to selling tickets for the Art House Project and related books and goods, it also serves as an information center.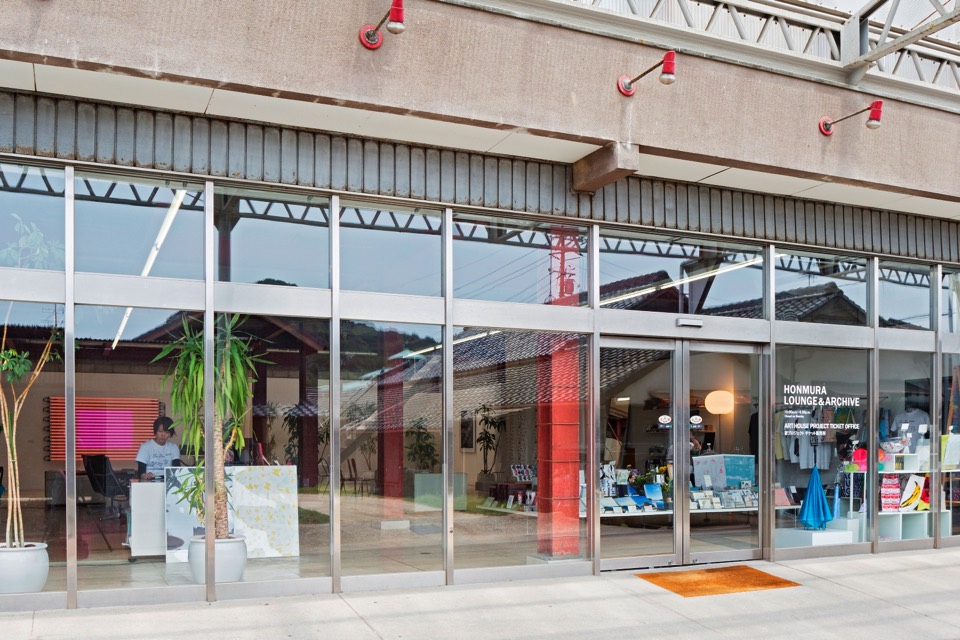 Hiroshi Sugimoto Go'o Shrine,

2002
Leo Villareal Chasing Rainbow,

2004
Spatial design: Ryue Nishizawa
Hours:

9

:30 am - 4:30 pm




* Visitors are welcome to view and pray at any time at the main and front shrine areas of Go'o Shrine.
Closed:

Mondays




* Open on Mondays for national holidays but closed the next day.
Address:

850-2 Naoshima, Kagawa 7613110 Japan
tel +81-(0)87-840-8273
Kadoya
Kadoya was the first building in the Art House Project to be completed. The house was constructed roughly 200 years ago, and it was restored to its original appearance with a stucco finish, smoked cedar boards, and traditional roof tiles. The townspeople of Naoshima participated in the creation of the work Sea of Time '98 by Tatsuo Miyajima. This work also served as an opportunity to interject modern art into the lives of the islanders and the local area.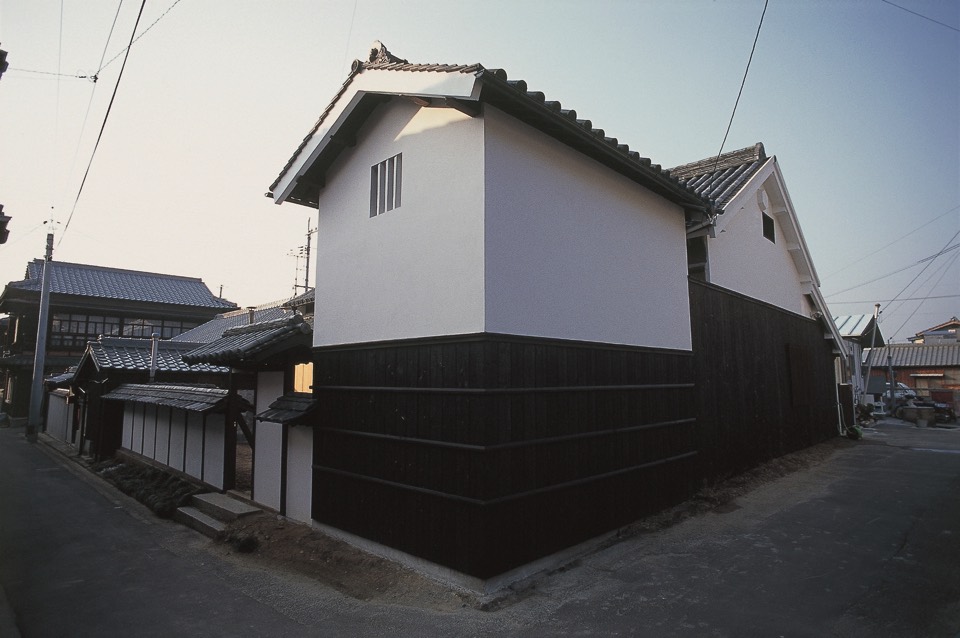 Tatsuo Miyajima Sea of Time '98,

1998 / 2018
Tatsuo Miyajima Naoshima's Counter Window,



1998
Tatsuo Miyajima Changing Landscape,

1999
Restoration supervision: Tadashi Yamamoto
Tatsuo Miyajima
Born in Tokyo, 1957. MA in painting, Tokyo National University of Fine Arts and Music. Major exhibitions include Venice Biennale Aperto (1988), Big Time (1996, Modern Art Museum of Fort Worth, Texas, exhibited the following year at Hayward Gallery, London), and Art in You (2008, Art Tower Mito, Ibaraki). Contributed to Standard at Benesse Art Site Naoshima in 2001.
Minamidera
Minamidera is a new building, and it was designed by Tadao Ando to accommodate the size of the works of James Turrell. The vicinity was once home to five temples and shrines, as well as the ruins of a castle, making it the center of history and culture in Naoshima. The name Minamidera (literally "southern temple") seeks to preserve the idea that the temples which once stood here were emotional support for the people.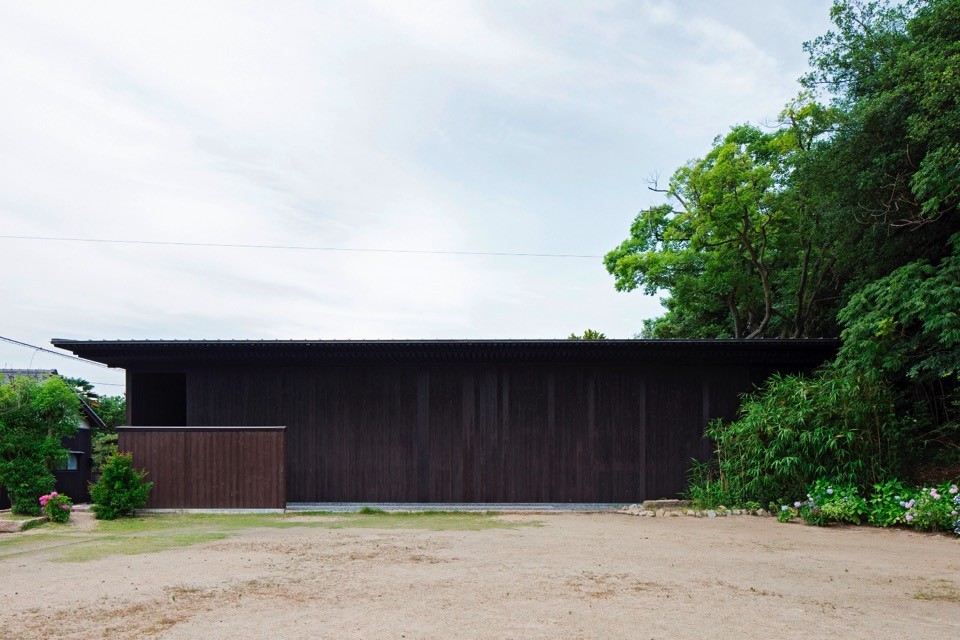 James Turrell Backside of the Moon,

1999
Design: Tadao Ando
James Turrell
Born in 1943 in Los Angeles, California. MFA, Claremont Graduate School. Major Turrell exhibitions have been held in 1980 at the Whitney Museum of American Art, New York and in 1995 at Art Tower Mito, Ibaraki. Significant works include the Roden Crater project (1979 to present, Arizona), House of Light (2000, Niigata), and three works introduced in 2004 at Chichu Art Museum: Afrum, Pale Blue together with Open Sky and Open Field.
Last admittance:

4:15 pm
For visitors intending to visit the Art House Project during the most crowded period (March to November)

In order to ensure a comfortable viewing experience for everyone, there may be times when we restrict the number of visitors entering the gallery at Minamidera.
About the waiting numbers for Minamidera

・The time at which you will be able to enter the Minamidera is printed on the waiting number.
・Each visitors must have a waiting number. Please take one waiting number for each person in your group, including small children.
・Please come to Minamidera at the time marked on the waiting number you are given. At this time, you will be able to enter Minamidera.
・The waiting numbers become invalid after the time marked on them. Visitors holding waiting numbers are able to visit other museums on the island until the time marked on their ticket.
・Waiting numbers are only distributed on the day of the visit. They cannot be issued or distributed in advance.
Kinza
Kinza's building was once a small house built more than a century ago. Major structural elements, such as the roof and pillars, utilize the original traditional techniques, but the structure itself, including the exterior walls, has been turned into a work of art. Rei Naito created a new space by subtly adding to the preexisting connections with time and nature. This work can only be seen by appointment, and only one person may enter at a time to view it.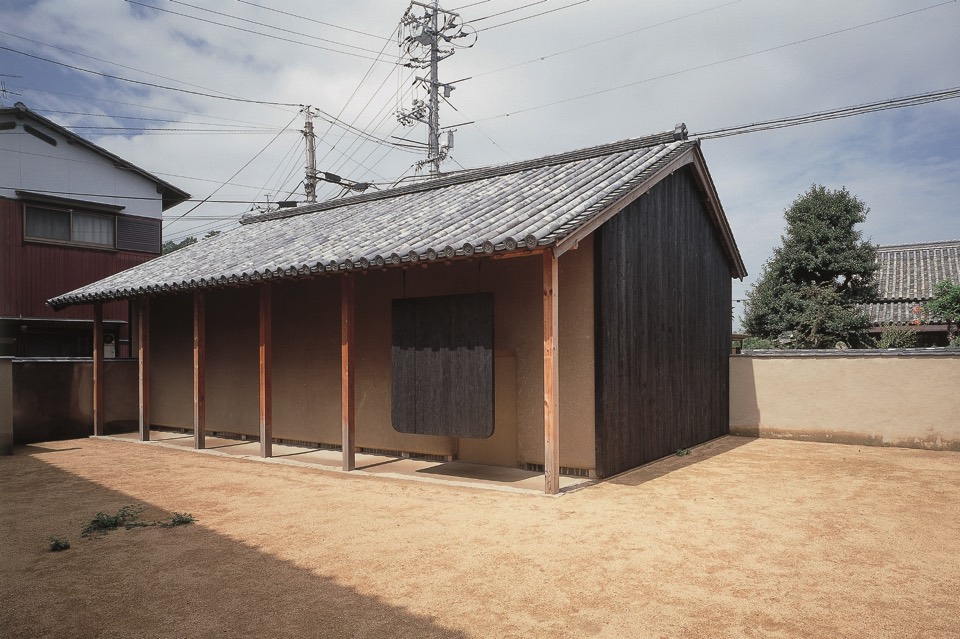 Rei Naito Being Given ,

2001
Concept and basic design: Rei Naito
Working design: Masaru Kimura, Sunao Nagata (Art Station)
Rei Naito
Born in Hiroshima, 1961. Degree in visual communication design from Musashino Art University, 1985. Major exhibitions and projects include Un luogo sulla terra (1997, Japanese Pavillion, 47th Venice Biennale), Being Called (1997, Galerie im Karmeliterkloster, Frankfurt am Main), Being Given (2001, Kinza Naoshima Art House Project, Benesse Art Site Naoshima), Un luogo sulla terra/Tokyo 2002 (2002, Rice Gallery by G2, Tokyo), Un luogo sulla terra/New York 2003 (2003, D'Amelio Terras, New York), matrix (2007, Nizayama Forest Art Museum, Toyama), and Tout animal eat dans le monde comme de l'eau à l'interieur de l'eau (2009, Museum of Modern Art, Kamakura, Kanagawa), the emotion of belief (2014, Tokyo Metropolitan Teien Art Museum, Tokyo), the emotion of belief (2017, Maison de la Culture du Japon à Paris).
Hours :

10:30 am - 1:00 pm / 2:30 pm - 4:30 pm(March 1 - September 30)
10:00 am - 1:00 pm / 2:30 pm - 4:00 pm(October 1 - last day of February)
Closed :

Monday to Wednesday



Admission:

JPY 520
* This fee is separate from the fees incurred for other art houses.
Note:

Can only be seen by appointment, and only one person within 15 minutes may enter at a time to view it.
Kinza is an artwork accessible by reservation only. Please note the following information when reserving and viewing.
Go'o Shrine
Hiroshi Sugimoto designed this building to coincide with the restoration of Go'o Shrine, which dates to the Edo Period. A flight of glass stairs links an underground stone chamber with the main hall, connecting the subterranean and the surface to form a single world. The main hall and worship hall are based on the style of early shrine architecture, such as that of Ise Shrine, as well as the artist's own aesthetic sensibility.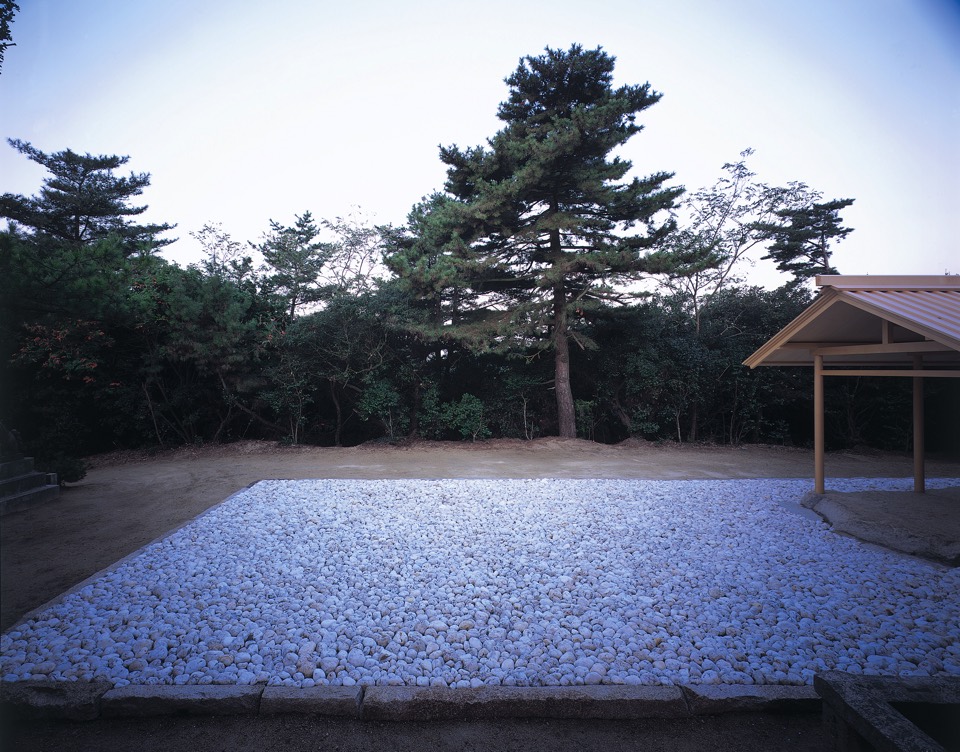 Hiroshi Sugimoto Appropriate Proportion ,

2002
Design: Hiroshi Sugimoto
Design collaboration: Masaru Kimura, Toshio Shitara (Art Station)
Hiroshi Sugimoto
Born in Tokyo, 1948. Major exhibitions include Sugimoto (Metropolitan Museum of Art, New York), Hiroshi Sugimoto (Mori Art Museum, Tokyo), and traveling exhibits at other sites from 1995 to 1998, as well as History of History (21st Century Museum of Contemporary Art, Kanazawa), which was also presented at the National Museum of Art, Osaka in 2008 and 2009. At Benesse Art Site Naoshima, Mr. Sugimoto has contributed to Out of Bounds: Contemporary Art in Seascape (1994, Tokyo), Standard (2001), and Naoshima Standard 2 (2006-2007).
Ishibashi
Formerly the home of the Ishibashi family, who prospered producing salt in the Meiji Period, it was used as a private home until April 2001. The salt-making industry supported the livelihood of people in Naoshima for many years, and restoring the home was considered important to understanding the history and culture of Naoshima. Hiroshi Senjyu spent five years from the original conception of the idea developing the entire space of this "tangible memory" into a work of art.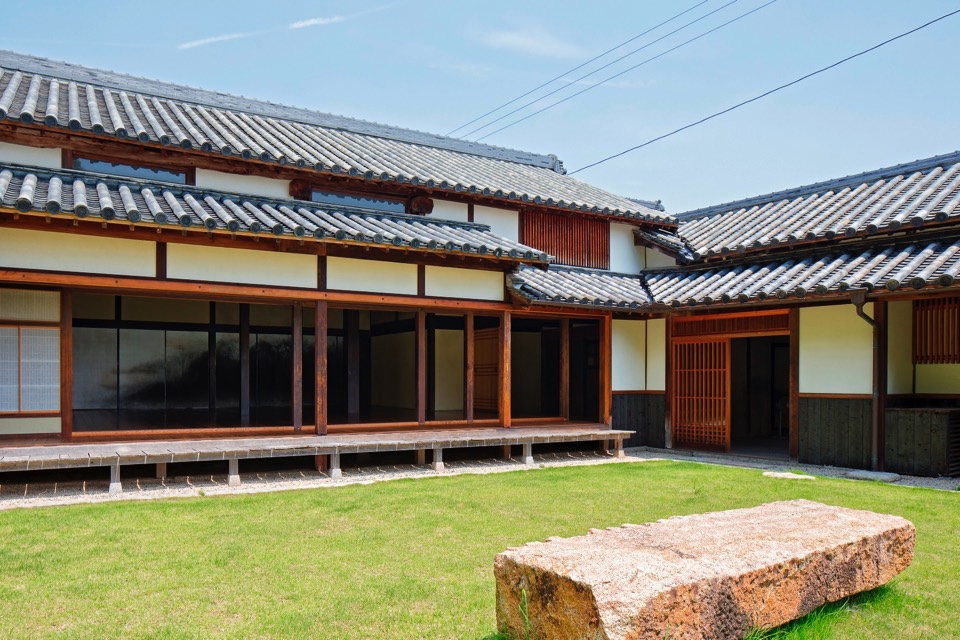 Hiroshi Senju The Falls ,

2006
Hiroshi Senju The Garden of Kū ,

2009
Spatial design: Hiroshi Senju, Yuji Akimoto
Restoration supervision: Soichiro Fukutake, Tadakatsu Honda
Hiroshi Senju
Born in Tokyo, 1958. PhD, Tokyo National University of Fine Art and Music. Honorable mention in the painting category, 46th Venice Biennale (1995). Significant works include the Flat Water and Waterfalls series. Public art by Mr. Senju includes a series of panels for the Daitokuji-Jukoin-Betsuin temple (2002, Shizuoka) and murals for Terminal 2 at the Tokyo International Airport, Haneda (2004, Tokyo). A contributor to Naoshima Standard 2, (2006-2007).
Gokaisho
The name Gokaisho (literally "place to play go") is derived from the long-ago custom of the islanders gathering here to play the game of go. Yoshihiro Suda converted the structure into an art space, and his work Tree of Spring, inspired by the work Falling Camellia by Hayami Gyoshu, is displayed within. An actual five-colored camellia is planted in the garden, creating a contrastive effect with Suda's camellia inside.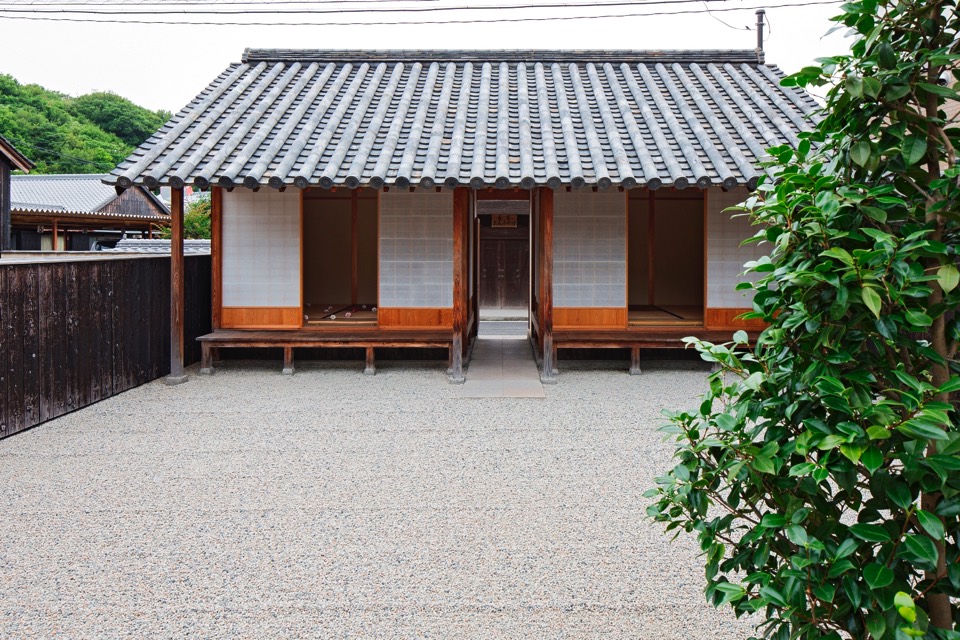 Yoshihiro Suda Gokaisho,

2006-
Spatial design: Yoshihiro Suda, Yuji Akimoto
Restoration supervision: Tadakatsu Honda
Yoshihiro Suda
Born in Yamanashi, 1969. BA in graphic design, Tama Art University (1992). Major exhibitions include the Ginza Weed Theory (1993, Tokyo), Yoshihiro Suda (2004, Palais de Tokyo, Paris), and Yoshihiro Suda (2006, Marugame Genichiro-Inokuma Museum of Contemporary Arts, Kagawa). At Benesse Art Site Naoshima, Mr. Suda has contributed to Standard (2001) and Naoshima Standard 2 (2006-2007) and has created the commissioned work, Weeds (2002).
Haisha
Haisha, meaning "dentist", was once the home and office of a dentist, and Shinro Ohtake converted the entire building into a work of art. The house incorporates an eclectic array of stylistic elements, appearing in some places like a sculpture, in others like a painting, and in still others like a collage or scrapbook. The title of the work, Dreaming Tongue, represents the process of holding something in one's mouth and recalling a dream by retracing the taste and scent.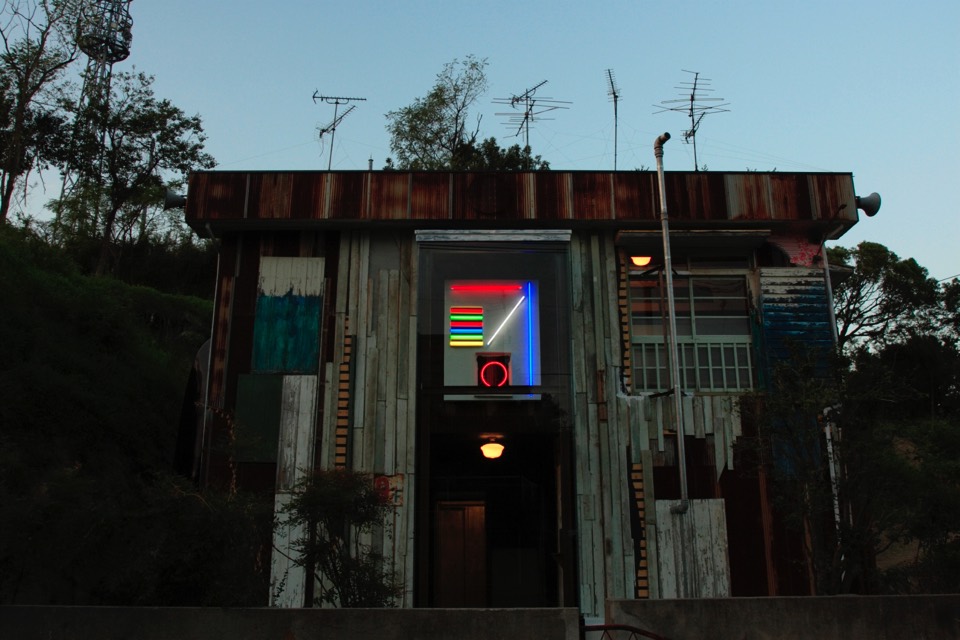 Shinro Ohtake Dreaming Tongue/BOKKON-NOZOKI,

2006
Spatial design: Shinro Ohtake
Restoration supervision: Yuji Akimoto, Tadakatsu Honda
Shinro Ohtake
Born in Tokyo in 1955. Began showing his work inside and outside Japan in the early 1980s. Takes part in the 8th Gwangju Biennale (South Korea, 2010), dOCUMENTA 13 (Germany, 2012 ), and the 55th International Art Exhibition Venice Biennale (Italy, 2013). His major works at Benesse Art Site Naoshima are Art House Project "Haisha" (Dreaming Tongue / BOKKON-NOZOKI ) (Naoshima, 2006), Naoshima Bath "I♥湯" (Naohshima, 2009). He also took part in Setouchi Triennale 2013, where he presented MECON (Megijima).
Groups Visits
9 People and More
Groups Visits
In order to ensure a smooth admission, groups of 9 or more visitors who intend to visit the "Art House Project" are advised to contact us in advance using the Benesse Art Site Naoshima Group Advance Notice Form.
Contact us:

In order to ensure a smooth admission, groups of 9 or more visitors who intend to visit Art House Project are advised to contact us in advance using the "Benesse Art Site Naoshima Group Advance Notice Form."
* Due to limited gallery space, please divide your group into smaller groups of around 8 people at a time.
Information
Facilities and Services
The "Art House Project" is viewed by walking between galleries in various locations. Visitors should first purchase an entrance ticket at Honmura Lounge & Archive.
For visitors with babies or small children
・Visitors can walk around the island with a baby carriage, but baby carriages may not be taken into the galleries in which the artworks are displayed.
・There is one restroom with a changing table in Honmura Lounge & Archive.
For handicapped visitors
(1)Accessibility
Since we have renovated old buildings, some places are not accessible to visitors with disabilities and special needs.
We ask for your understanding.
We will support you as much as possible when you visit us, so please contact and discuss directly with our facilities.

(2)About lending wheelchairs, etc.
・Wheelchairs: We have a wheelchair available at Honmura Lounge & Archive.
・Writing tools: Available.
・Multi-purpose toilets: There are 3 locations in the Honmura district around the Art House Project.
・You may enter our facilities with a service dog, a seeing-eye dog, and/or a hearing assistance dog.
About admission
・No discounts are offered for groups and holders of Disability Certificates (Physical Disability Certificates, Rehabilitation Certificates, or Mental Disability Certificates) are not granted free entry.
・We accept the following credit cards: AMEX, Diners, JCB, Master Card, NICOS, VISA
Requests to visitors
When visiting the museum
・Parking spaces are limited. Please use public transport if at all possible.
・The galleries are located in residential areas. Please observe good manners and consider the local residents when walking around the island.
・Please do not bring large objects (suitcases, umbrellas, tripods, etc.) into the galleries. These should be left at Honmura Lounge & Archive.
・Pets may not be taken into the galleries.
・The use of cell phones is prohibited on the galleries premises.
・Other than in the cafe, visitors may not eat (including candy, gum, boxed lunches, etc.) or drink on the galleries premises.

・

Visitors may be refused entry if they appear intoxicated or otherwise pose a disturbance to other visitors.

・Please take any garbage away with you.
When viewing the artworks
・Please do not touch the walls, the glass, or the artworks themselves.
・Please do not take photographs, videos, or make sketches in the galleries. Visitors are also requested not to use fountain pens, ink, etc.
About using drone
・It's strictly prohibited to operate Unmanned Aircrafts (UAs) /Drone in Benesse Art Site Naoshima premises without our prior permission due to safety assurance reasons for the people, architecture, and artworks.
Contact
Honmura, Naoshima, Kagawa 7613110 Japan
Tel. +81-(0)87-892-3223 (Benesse House)
Fax. +81-(0)87-892-2259
Individuals / Groups