Inujima Seirensho Art Museum
Inujima Seirensho Art Museum is a museum that preserves and recreates the remains of a copper refinery that remains on Inujima Island. The museum was built based on the concept of 'using what exists to create what is to be'.
It features environmentally friendly architecture by Hiroshi Sambuichi that uses natural energy sources such as an existing chimney, karami bricks, solar and geothermal heat; and works by Yukinori Yanagi inspired by Yukio Mishima, who warned Japan against modernization, created in response to the architecture. There is also an advanced water purification system that uses the power of plants. It can be said that this is a project, which through 'heritage, architecture, art, and the environment', is conscious of a recycling-based society.
Hours & Admission
Hours:

9:00 a.m.-4:30 p.m.
(Last admittance: 4:00 p.m.)
Ticket center: 9:00 a.m.-5:00 p.m.
Closed:

Tuesdays to Thursdays (March 1 - November 30)
*Open on national holidays
All days closed (December 1 - last day of February)
Open Days Calendar
Admission:

JPY2,100


*Admission to Inujima "Art House Project" included.


*free for children 15 and under

*If visiting the museum in a group (9 or more people), Please go to Group Visits.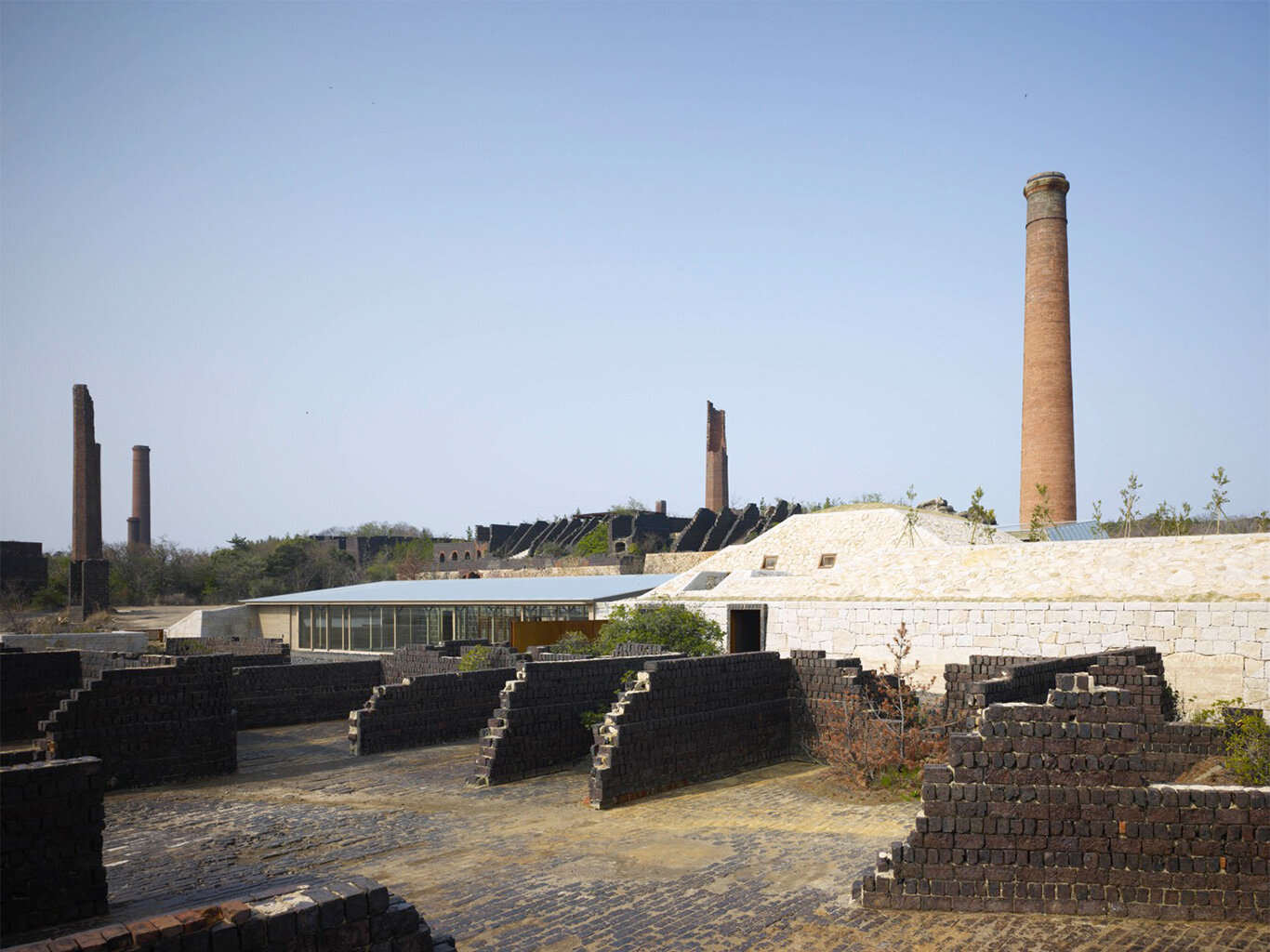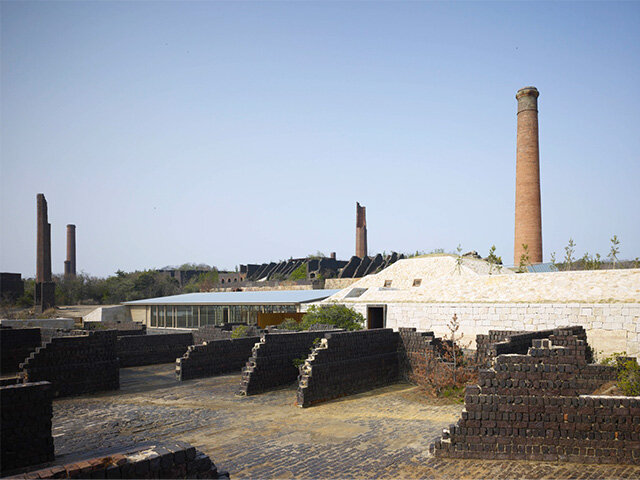 Heritage of Industrial Modernization
Heritage of Industrial Modernization
Copper refineries were often constructed on islands to alleviate air pollution in urban areas and in order to facilitate the transport of raw materials. The Inujima refinery, built in 1909 with local capital, was one such refinery. A dramatic fall in copper prices resulted in the refinery to cease its operations, 10 years only after its completion.Today, Inujima displays a unique industrial scenery, composed of the plant site constructed using Karami bricks made from the slag generated as a byproduct of the copper refining process, smokestacks and other elements. The remains of the large-scale refining factory are still in a good condition after nearly 90 years. In 2007, the Inujima refinery was designated as one of Japan's 33 Industrial Modernization Heritage sites by the Ministry of Economy, Trade and Industry, in recognition for the groundbreaking role it played in the industrial development of Japan.
Artist
An artwork expanding into six separate spaces, combining the process of architectural design with a motif featuring Yukio Mishima, a novelist who was a vocal critic of Japan's modernization. Once a prospering force contributing to the modernization of Japan, today only the vestiges of the Inujima refinery remain. This work questions Japan's modern society and its future orientation.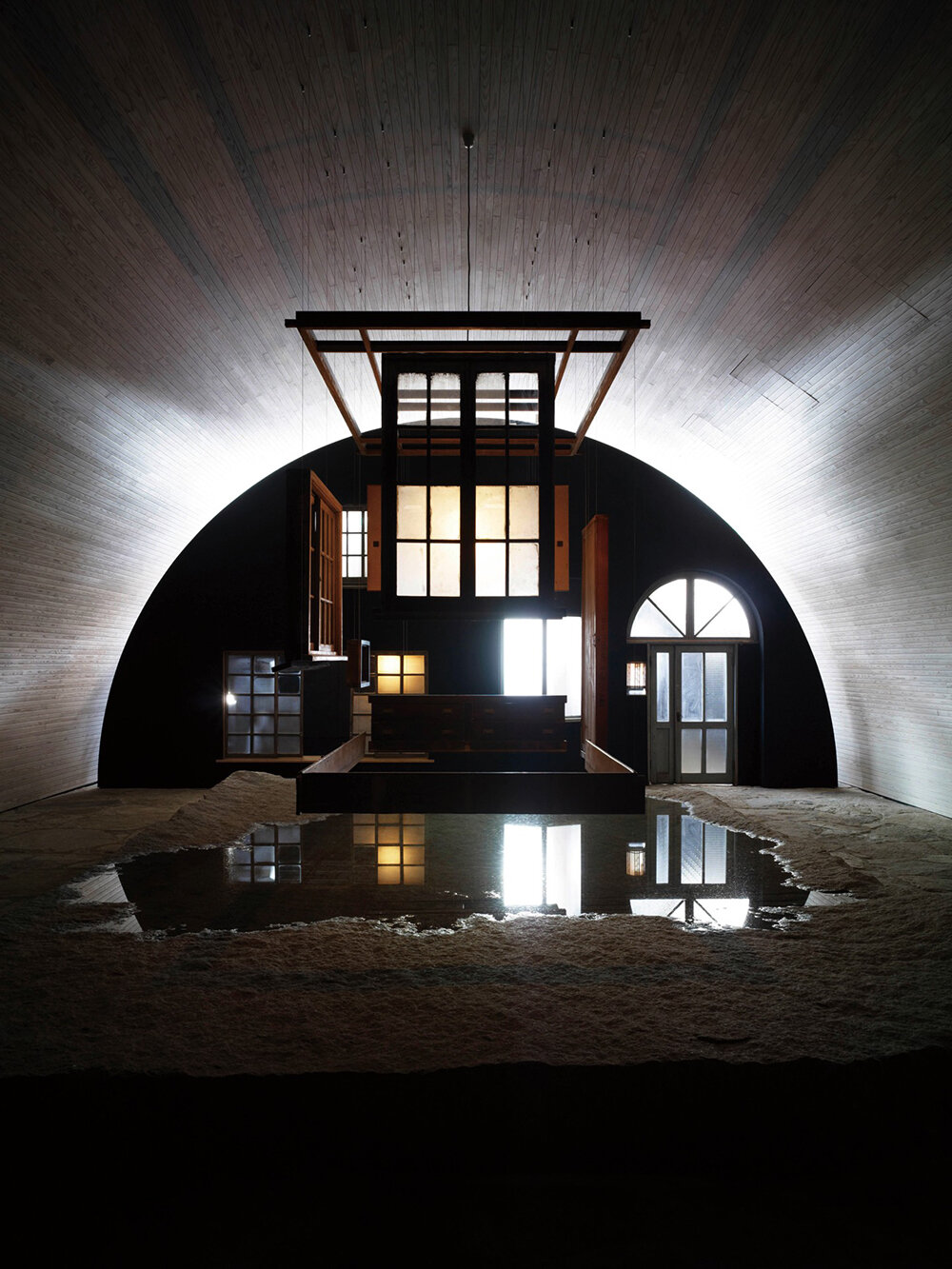 Architect
Architect
Hiroshi Sambuichi
The architecture of Inujima Seirensho Art Museum makes use of geological features, the legacy of this industrial site as well as natural energy to create a structure changing and growing as an integral part of the natural environment on Inujima.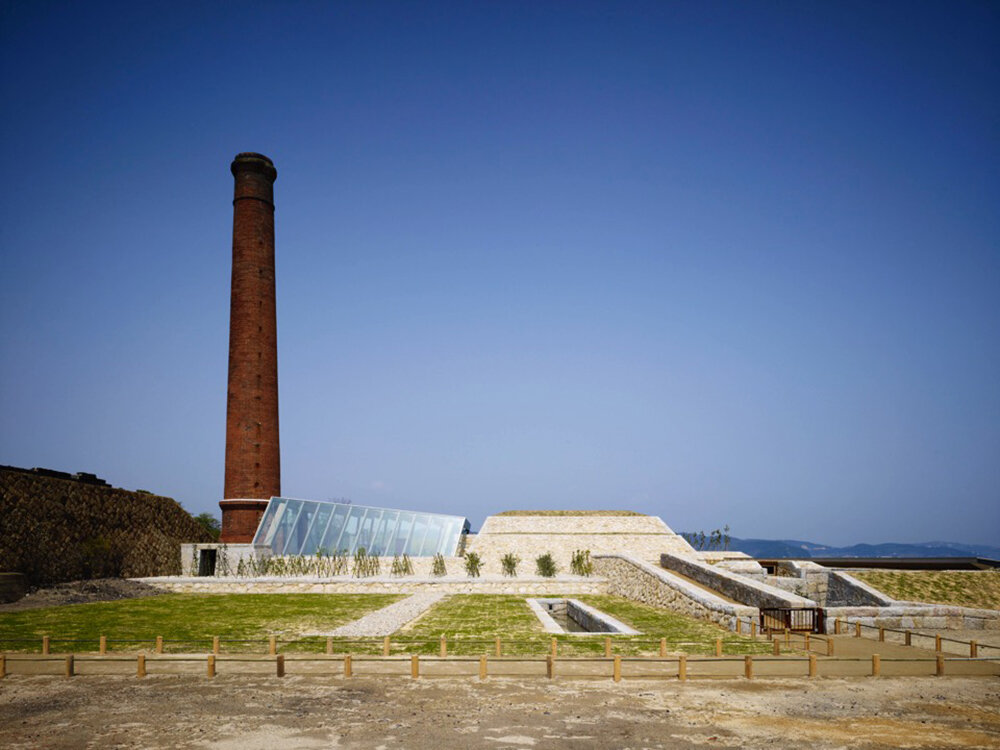 Environmental System
Inujima Seirensho Art Museum creates an environment where nature is the foremost concern, using a sophisticated water purification system that makes use of the filtering proprieties of plants. Among other measures, vegetation was planted that is suited to Inujima, based on the results of an environmental survey.

Other Facilities
Cafe&Store
Inujima Ticket Center Store
Store, the Seirensho museum shop, sells original goods using the designs of the artist and architect, related books, stationery, and other goods.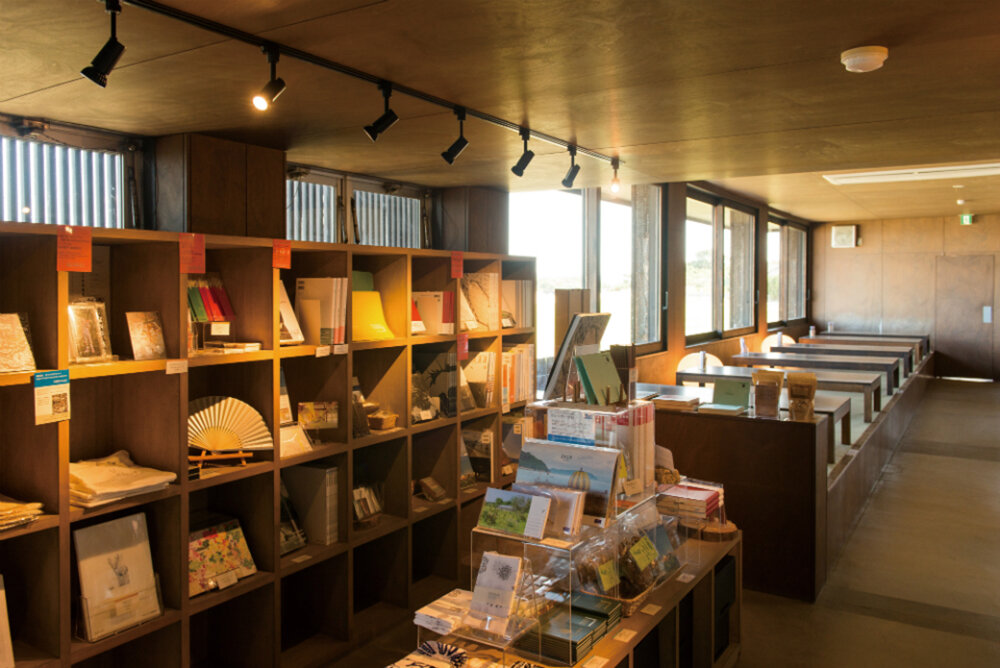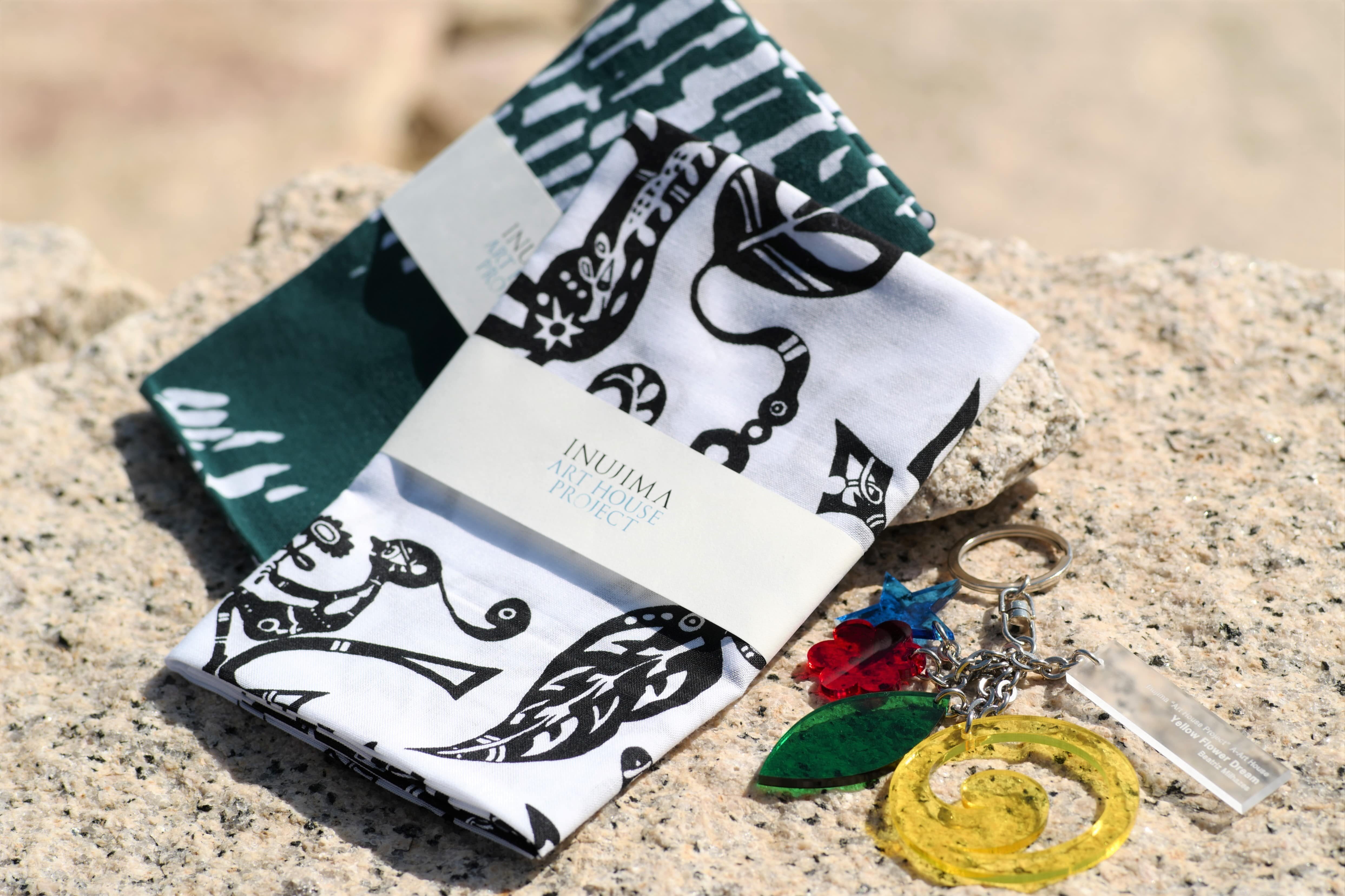 (L) Towels with original Inujima designs. 7 variations.
(R) Key ring with motif based on Inujima"Art House Project" A-Art House.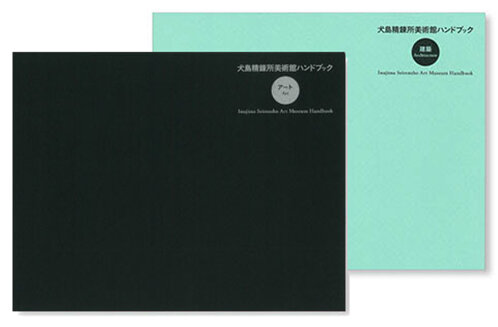 (L)Official guidebook to the architecture of the Inujima Seirensho Art Museum, which proposes a new way of interacting with our environment. (R)Official guidebook that offers commentary on the architecture of Inujima Seirensho Art Museum, which is designed to minimize burden to the environment and to harmonize with its surrounding nature.
Cafe&Store
Inujima Ticket Center Cafe
Inujima Ticket Center Cafe provides a space where visitors can spend a relaxing time having a cup of coffee or tea along with something to eat while taking in a panoramic view of the Seto Inland Sea.
The menu was created in collaboration with local people, and uses foodstuffs from Inujima and nearby areas. Visitors can enjoy meals that change with the seasons.
Hours:

9:00 a.m.-5:00 p.m. (Last order: 4:30 p.m.)
Closed:

The cafe is closed when the museum is closed.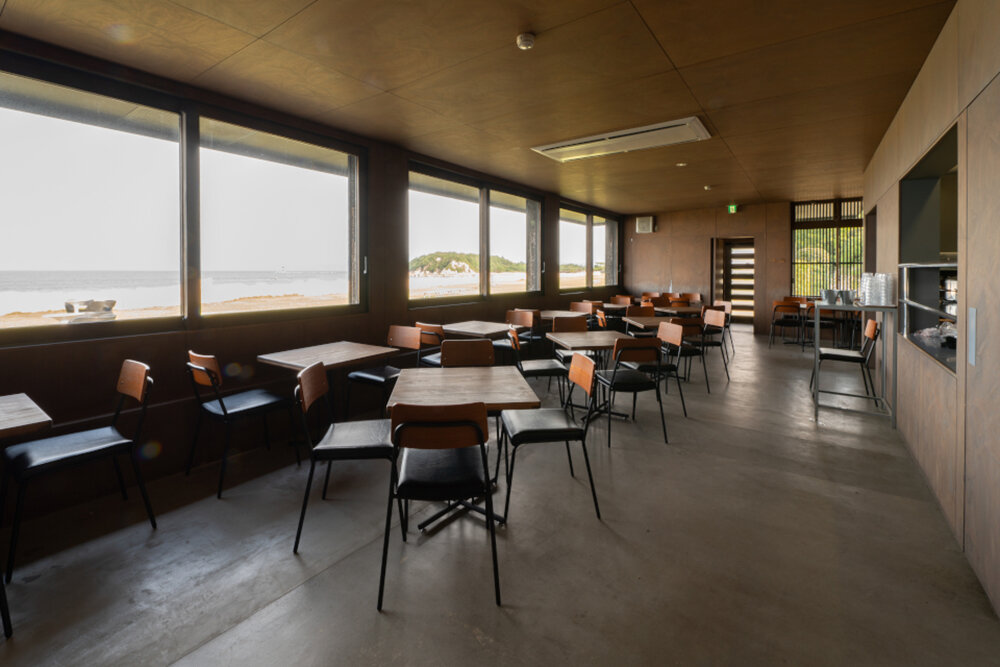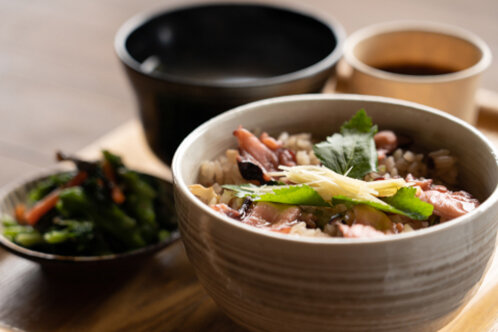 This local dish is said to have its roots in a fisherman's meal in Setouchi. Based on a recipe created by islanders, it is made with great care, starting with the preparation of the raw octopus.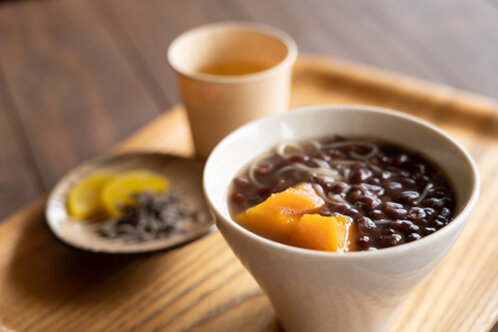 This is a recreation of the zenzai bean soup eaten as a childhood snack by Inujima islanders. The bean soup contains pumpkin and somen noodles.
Group Visits
Group Visits

9 people and more
Group visits to Inujima Seirensho Art Museum must be booked in advance. This enables us to schedule groups throughout the day to avoid overcrowding.
Reservations:

Please provide us the details of your group by reservation form.
Inquiry

:

327-4 Inujima, Higashi-ku, Okayama 7048153, Japan




Tel. +81-(0)86-947-1112




Fax. +81-(0)86-947-1115


Inquiry form
Information
Facilities and Services
For visitors with babies or small children
・Within the Seirensho there are areas in which the remains of old structures and natural features are left just as they are, making it difficult to wheel a baby carriage. We recommend that you do not attempt to take a baby carriage onto the site.
・Baby carriages can be left at the Inujima Ticket Center reception desk during your visit.
・Please note that there is no nursing room in the museum.
・There is one restroom with a changing table in the Inujima Ticket Center.
For handicapped visitors
(1)Accessibility
Due to characteristics of facility, some places are not accessible for visitors with disabilities and special needs.
We ask for your understanding.
We will support you as much as possible when you visit us, so please contact and discuss directly with our facilities.

(2)About lending wheelchairs, etc.
・Wheelchairs: We have 2 wheelchairs available at Inujima Ticket Center.
・Writing tools: Available.
・Multi-purpose toilets: Available.
・You may enter our facilities with a service dog, a seeing eye dog, and/or a hearing assistance dog.
About admission
・Admission to Inujima "Art House Project" included.
・No discounts are offered for groups and holders of Disability Certificates (Physical Disability Certificates, Rehabilitation Certificates, or Mental Disability Certificates) are not granted free entry.
・We accept the following credit cards: AMEX, Diners, JCB, Master Card, NICOS, VISA
Requests to visitors
When visiting the museum
・Parking spaces are limited. Please use public transport if at all possible.
・Seirensho is located in a former industrial site and there are areas in which the remains of old structures and natural features are left just as they are. Benesse Art Site Naoshima has made every reasonable effort to make Seirensho itself safe, however visitors enter Seirensho at their own risk. We will not bear any responsibility for accidents or injuries occurring in the Seirensho.
・Children up to 15 years old must be accompanied.
・Under no circumstances may a visitor enter areas that are fenced off or areas marked "Prohibited". These areas have not been prepared for visitors. It is possible that structures might collapse or cave-ins occur in marked off areas.
・Please do not bring large objects (suitcases, umbrellas, tripods, etc.) into the museum. These should be placed in coin lockers or left at the Inujima Ticket Center.
・Pets may not be taken into the museum.
・Visitors may not enter the Seirensho wearing bathing suits.
・Smoking is prohibited on the museum premises.
・The use of cell phones is prohibited on the museum premises.
・Other than in the cafe, visitors may not eat (including candy, gum, boxed lunches, etc.) or drink on the museum premises.

・

Visitors may be refused entry if they appear intoxicated or otherwise pose a disturbance to other visitors.

・Please take any garbage away with you.
When viewing the artworks
・Please do not touch the walls, the glass, or the artworks themselves.
・Please do not take photographs, videos, or make sketches in the museum. Visitors are also requested not to use fountain pens, ink, etc.
About using drone
・It's strictly prohibited to operate Unmanned Aircrafts (UAs) /Drone in Benesse Art Site Naoshima premises without our prior permission due to safety assurance reasons for the people, architecture and artworks.
Contact
327-4 Inujima, Higashi-ku, Okayama 7048153, Japan
Tel. +81-(0)86-947-1112
Fax. +81-(0)86-947-1115
Inquiry form