Tom Na H-iu
Tom Na H-iu is an ancient Celtic site of spiritual transmigration where souls are considered to spend a long time until the next migration.
Inspired by this legend and the fact that ancient humans have built standing stones in many places all over the world, Mariko Mori created a new monument that symbolizes life and death in our time.
Hours & Admission
Hours:

10:30 a.m. - 4:30 p.m.
Closed:

Please check the Open Days Calendar for opening hours and closed days.
Admission:

Admission Fee:JPY300
* Free for children 15 and under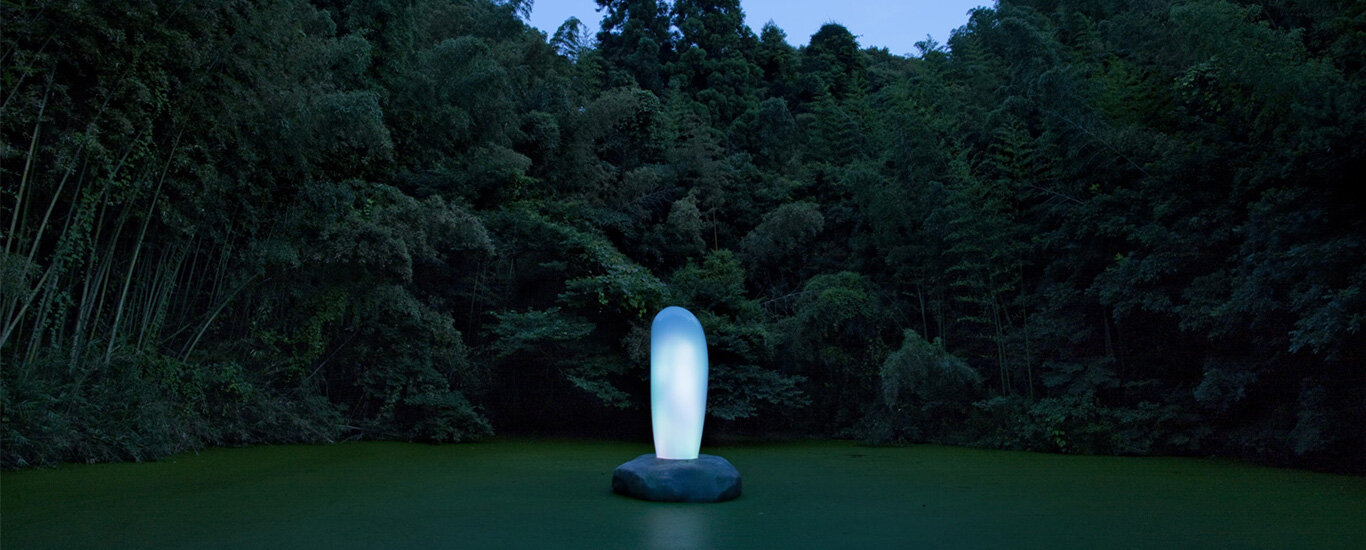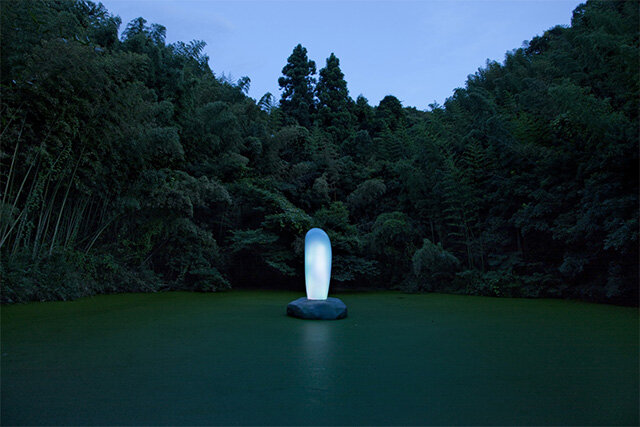 Artist
The colossal glass object standing in the middle of the pond surrounded by a bamboo grove is linked to the Kamioka Observatory (Super-Kamiokande) in Hida, Japan, by a computer, interactively glowing when it receives data of neutrinos generated by supernova explosions (the death of stars).
Watching this sculpture projecting the light of neutrinos - the soul of the universe - onto the water surface, we will feel that we are linked to the universe, or indeed that we are ourselves the universe, relating our living in the eternal ow of time to Tom Na H-iu.
Information
Facilities and Services
Admission
・No discounts are offered for groups and holders of Disability Certificates (Physical Disability Certificates, Rehabilitation Certificates, or Mental Disability Certificates) are not granted free entry.
・Credit cards are not accepted.
Requests to visitors
When viewing the artworks
・Please be mindful while exploring the island.
About using drone
・It's strictly prohibited to operate Unmanned Aircrafts (UAs) /Drone in Benesse Art Site Naoshima premises without our prior permission due to safety assurance reasons for the people, architecture, and artworks.
Contact
37 abu, ieura, Teshima, Tonosho-cho, Shozu-gun, Kagawa 7614661 Japan
Tel. +81-(0)879-68-3555 (Teshima Art Museum)
Fax. +81-(0)879-68-2182