Inujima Life Garden
Roughly 4,500 square meters of land has been used to create a botanical garden reflecting the natural environment and culture of Inujima, with a long-abandoned glass greenhouse as a centerpiece. It is not a conventional botanical garden, professionally landscaped so that people can visit and observe plant life, but rather a place where island residents and visitors can join in the process of reviving the land, and enjoy self-reliance in areas from food to energy while experiencing the joy of living within the cycles of nature.

While learning from island residents about how to harness the power of nature and vegetation in daily life, the garden aims through workshops and various activities to create environments and spaces for experiencing all that plants can offer, from food to fragrance, education, and recreation. At Inujima Life Garden, island residents and visitors can relax and learn from one another, thinking together about future lifestyles.
Hours & Admission
Hours:

9:00 a.m.-4:30 p.m.
Closed:

Tuesdays to Thursdays (March 1 - November 30)
*Open on national holidays
All days closed (December 1 - last day of February)
Open Days Calendar
Admission:

free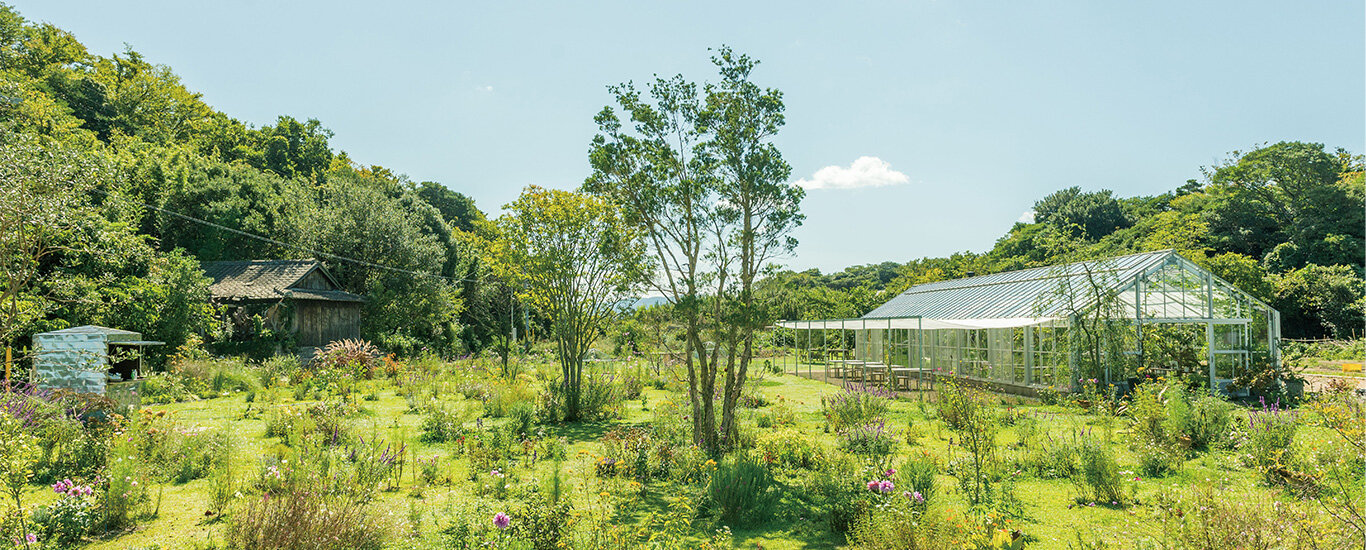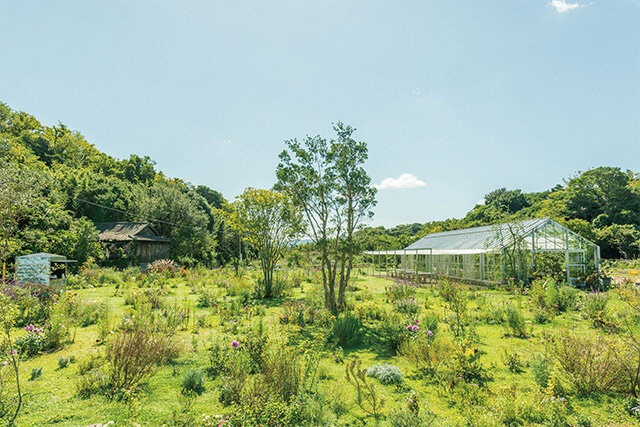 Artist
Artist
Kazuyo Sejima+Akaruiheya
Inujima Life Garden was realized through a collaboration between architect Kazuyo Sejima, who has been involved with the Inujima Art House Project open to the public since 2010, and Akaruiheya, which handled landscaping for the Inujima Art House Project (S Art House, A Art House, I Art House). The staff of Akaruiheya moved to the island of Inujima, and has been engaging with a wide range of people while working to create the botanical garden. The plan is to generate a space where visitors can connect to the island in new ways, one that takes shape over the long term through cooperation with island residents and visitors alike.
Site Plan
A flower garden, with the glass greenhouse in its center, contains a wide variety of plants that delight the eye, and opposite the plaza is a vegetable garden where herbs, vegetables and fruit trees grow. In future, a bio-geo filter, biotope, composting area and so on are also to be used to build a natural energy system on the premises, while drawing water from a well that already existed on the site. Landscaping work began in the spring of 2016, and the garden is a work in progress, shaped on an ongoing basis through workshops and the involvement of many students and volunteers.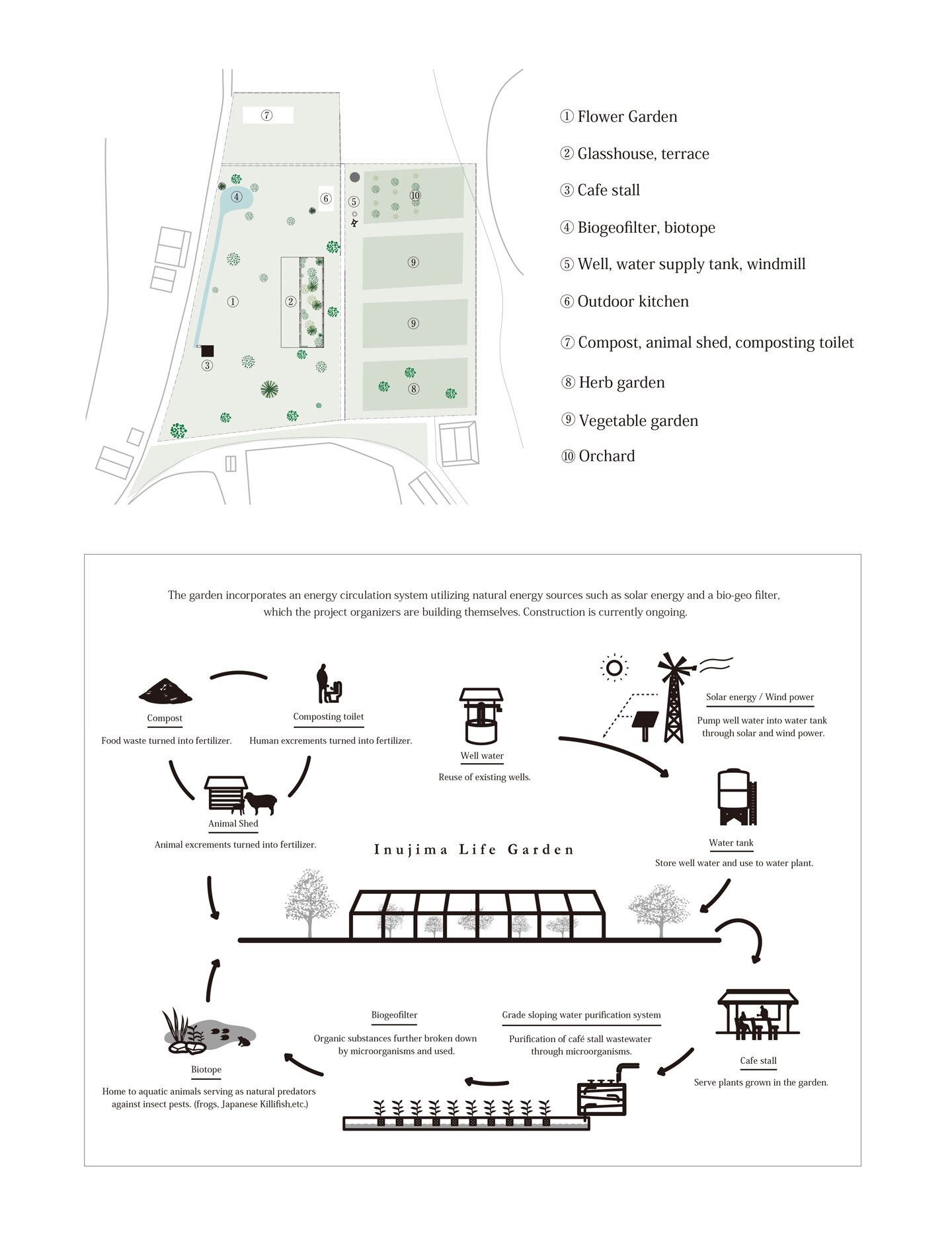 Other Facilities
Café&Store
Inujima Life Garden Café
An open-air café stall designed by Kazuyo Sejima enables visitors to relax and enjoy a leisurely time in the garden. Its exterior walls, made of corrugated stainless steel, softly reflects the colorful vegetation and the surrounding light. In addition to takeout drinks, the café sells original goods from the botanical garden.
Hours:

11:00 a.m.-2:00 p.m.
Closed:

*Irregular opening, please ask staff for details.
※Inujima Life Garden Café is currently closed.
Information
Facilities and Services
For handicapped visitors
(1)Accessibility
Due to characteristics of facility, some places are not accessible for visitors with disabilities and special needs.
We ask for your understanding.
We will support you as much as possible when you visit us, so please contact and discuss directly with our facilities.

(2)About lending wheelchairs, etc.
・Wheelchairs: We have 2 wheelchairs available at Inujima Ticket Center.
・Writing tools: Available.
・Multi-purpose toilets: Not available.
・You may enter our facilities with a service dog, a seeing eye dog, and/or a hearing assistance dog.
Requests to visitors
When visiting the garden
・The garden is located in a residential area. Please observe good manners and consider the local residents when walking around the island.

・Please take any garbage away with you.
・When walking around the grounds, please do not pick vegetables, flowers, plants, etc. without permission.
About using drone
・It's strictly prohibited to operate Unmanned Aircrafts (UAs) /Drone in Benesse Art Site Naoshima premises without our prior permission due to safety assurance reasons for the people, architecture and artworks.
Contact
50 Inujima, Higashi-ku, Okayama 7048153, Japan
Tel. +81-(0)86-947-1112 (Inujima Seirensho Art Museum)
Fax. +81-(0)86-947-1115
inquiry form