Asia Art Platform 2022
Fukutake House has been at work developing Asia Art Platform, a project that connects various Asian regions through a single village on Shodoshima, since 2013. In 2022, we aim to create a cooperative project that will serve as one of the initiatives of this project, and will exhibit artworks in a vacant house in Fukuda village together with five affiliate Asian organizations (hereinafter referred to as "partners") that share our objectives.
A key feature of the cooperative exhibit is the differing backgrounds and histories of each partner transcending organizational boundaries; we met online starting in the planning stages to create an exchange by assigning roles and building a structure for the implementation of the project. Under the project direction of Fram Kitagawa, we welcomed Lyno Vuth, our partner from Cambodia, as the project curator, and gathered five sets of vibrant art pieces under Lyno's theme of Communal Spirits.
These five pieces of art, through their theme of the animistic practices underlying Asian culture, once again bring light to the style of life based on value for the invisible, natural, sacred, and the land that our forefathers cherished, and bring a fresh perspective on the social and political conditions faced by each region, as well as the problems caused by globalization and modernization.
We hope that visitors will take the opportunity to walk through the quiet village with the help of the exhibition map, and encounter the rich nature and the lifestyle of the people, and explore the different expressions and invisible values of young contemporary artists from around Asia.
Hours & Admission
Title :

Communal Spirits
Dates:

August 5~September 4
September 29~ November 6, 2022
Admission:

JPY510
Venues:

5 Vacant houses in Fukuda area
Hours:

9:00 am~5:00 pm ※Last admittance: 4:30 pm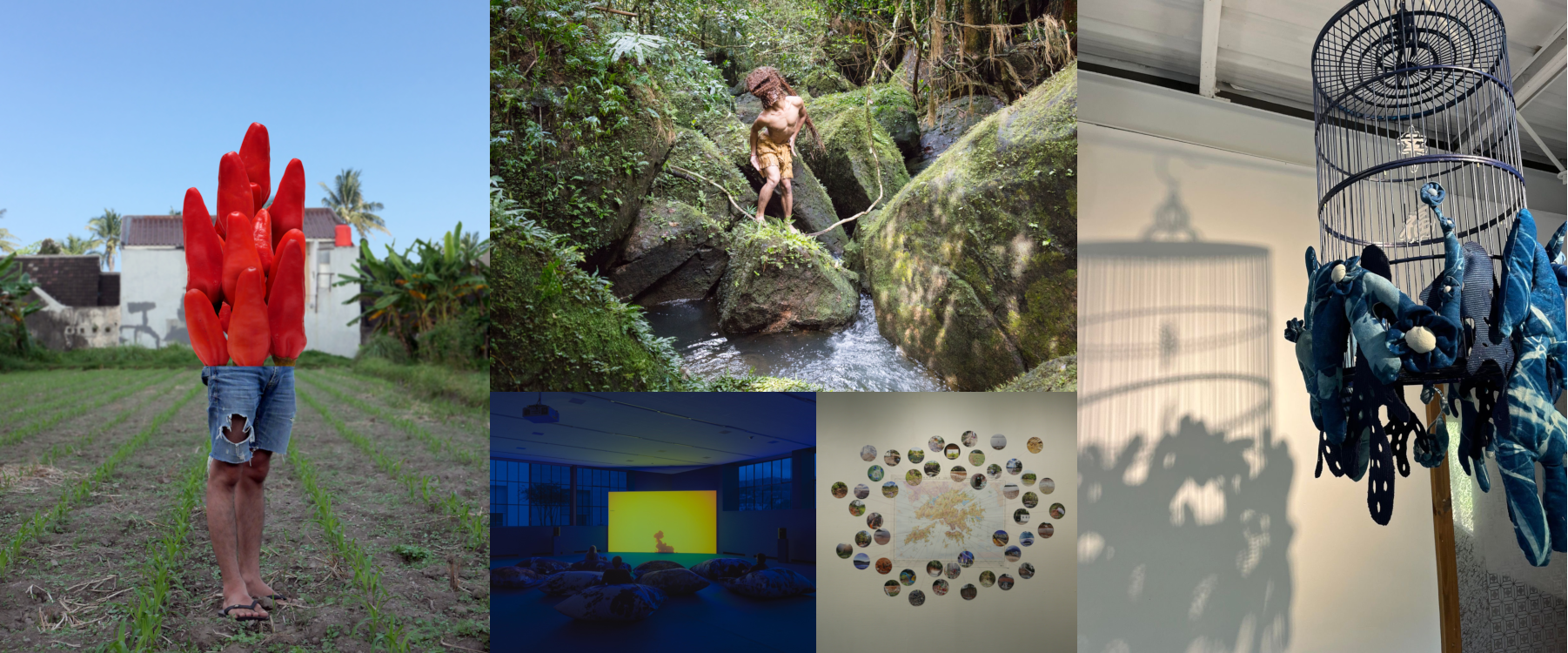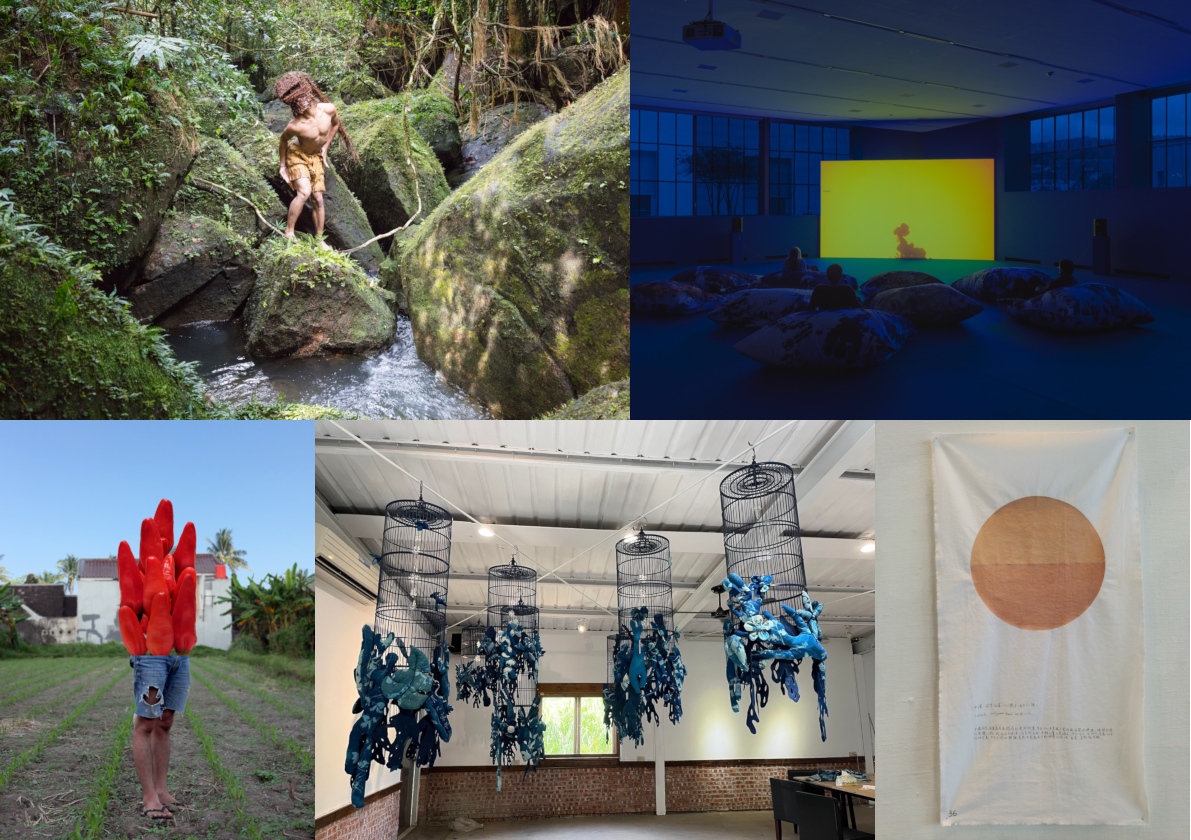 Communal Spirits
Asia Art Platform 2022
Communal Spirits
The exhibition grounds the spiritual and the invisible as a means to explore and address our lived realities. On the one hand, it considers spirits, ghosts, and divines, through indigenous practices and rooted traditions. On the other hand, it embraces the essence, quality, and value, or what we call the spirit, of communities and places.

How can the practice of spirits, ghosts, and divines help build a more comprehensive understanding of our social, political, cultural, and environmental realities? How can we understand the core of what it means to be a community or a place? How can different notions of spirits be understood as vital forces to help sustain and harmonise our planetary co-existence between humans and non-humans, the visible and the invisible? How can such localised and practice-based knowledge be a powerful passage to reimagine our worlds and possibly address issues that arose from globalization?

The artists in this exhibition turn to soil, nature, animals, folklore, shamans, rituals, and communal practices, to confront our contemporary conditions and rebuild our senses of connectedness. By locating and attuning to the traditions, they look at what holds and animates us, facilitating empathy and the potency of groundedness. They also make us aware of what is at stake for humanity and beyond. Through visualising and transforming the invisible and the non-humans, the artists critically and creatively offer some pathways to rethink our practice of sustainability and co-existence.

The exhibition brings five perspectives from different localities in Asia and converses with Shodoshima island and its community, hoping to build a dialog of solidarity in the spirit of a collective resilient community. It is composed of a constellation of five sites, each activated by one artist or collective.

Lyno Vuth (Sa Sa Art Projects, Artistic director)
Site A:Cambodia
Khvay Samnang
Preah Kunkong (The Way of Spirit), 2016-2017
Khvay Samnang is invested in the indigenous Chong people, who live in the southwestern province of Koh Kong, primarily in the Areng Valley. Areng is part of the last great forest in Cambodia and Southeast Asia, a site of ample natural resources and much rare wildlife. The valley itself is marked by geopolitical inequality, the threat of environmental devastation due to the development of a large hydroelectric dam, and the resulting transformation if not outright expunction of Indigenous ways of life.
Khvay built a lasting relationship with the Chong people in their communities for one year. In research, he grew to understand their land as a fundamentally embodied method founded on ancestral and oral histories. Khvay and his long-term collaborator, the choreographer and dancer Nget Rady, incorporated the communities' expressed relationships to particular animals, waters, and lands as a form of countermapping. This body-to-body transference permeates Khvay's entire project: within this method of knowledge accumulation and dissemination lies the inherent connection of the Chong people with their land, as well as their most powerful form of resistance.
—Hendrik Folkerts (excerpt from documenta 14: Daybook)
Artist:Khvay Samnang
Khvay Samnang (b.1982, Svay Rieng province) lives and works in Phnom Penh. His multidisciplinary practice offers new views on historical and current events and traditional cultural rituals using humorous, symbolic gestures. His work focuses on the humanitarian and ecological impacts of colonialism and globalization. Engaging directly and personally with local communities is an integral part of his work. His work shows a remarkable ability to engage with cultural and geographic contexts as well as with spatial and institutional settings.
Khvay graduated from the Painting Department at the Royal University of Fine Art. He was a grant holder of KfW Stiftung for the 12-month Artists-in-Residence program in collaboration with Künstlerhaus Bethanien, Berlin (2014-15). He was invited by KfW Stiftung as an alumnus to participate in a think tank with the world-renowned dancer and choreographer Akram Khan (2017), and was an artist-in-residence at Delfina Foundation, London, UK (2019).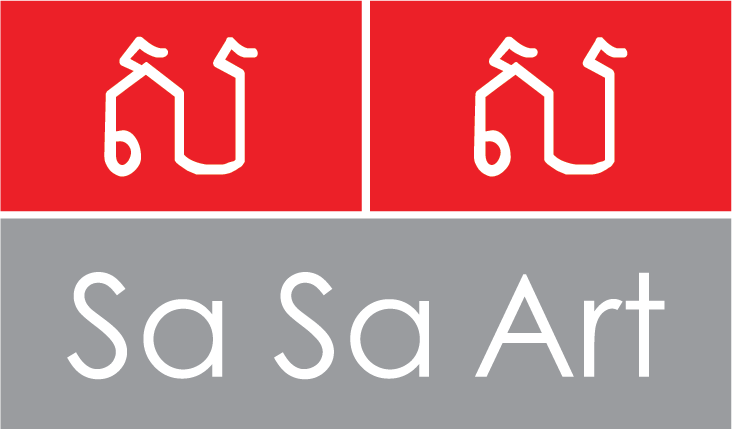 Partner:Sa Sa Art Projects
Sa Sa Art Projects was founded in 2010 by the Cambodian arts collective Stiev Selapak and operated from the historic apartment complex until 2017, when the building was demolished for new development. At its new location, Sa Sa shifted toward a stronger engagement with Cambodian young artists while continuing to build a dialogue with artists in Asia through its creative education programs, exhibitions, artist residency, and other collaborative projects.
Sa Sa is an experimental mechanism which addresses Cambodia's lack of infrastructure for contemporary art education and engagement by creating space for critical discussion. We believe that by not being bound to a rigid organizational structure, be able to adapt to the changing context and needs of the communities with which we work.
Site B:Taiwan
Summer Huang & Tsai, JiaYin
Blessings from Sunshine, 2022
Sun blesses everything on Earth as it shines indifferently without bias, we receive so many blessings from the sun, and even though the sun goes down at night, the warmth we have received can be carried onward into the night and all day long! Due to pandemic, we were kept distant with one another, but the desire to be connected didn't diminish.
In Taiwan, we collected inspirations from local plants and natural environment and drawn them onto cloths, local communities were invited to participate in the process, and to transpose their hand written words or drawings, cyanotype employed so that after sunlight exposure the image will appear onto the fabric; every stich, every sow, every thought, every stroke is dedication and blessing from Taiwan to Japan.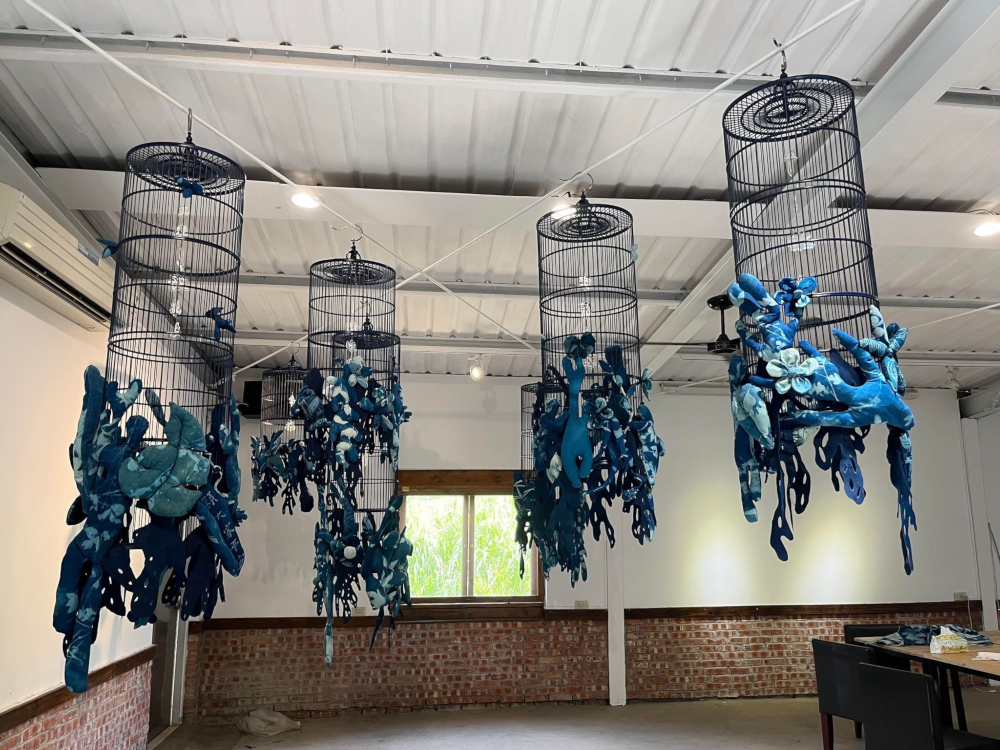 Artist:Summer Huang & Tsai, JiaYin
The duo artists met in grad school, and begin working together on community-based topics, they enjoy working with communities to explore their uniqueness, and turn their stories into artworks. Their choice of materials is unlimited, from mosaic to mud, from steel iron to cotton cloth. They are often inspired by community, and while hand making fine artworks, they also inspire the local community members to join in the making process, and the art encompass the expectations and participation of the community or the environment that is in.





Partner:Institute of Historical Resources Management(IHRM)
Founded in 2004, Institute of Historical Resources Management(IHRM) is a leading non-governmental organization in Taiwan, dedicated to heritage conservation and the management of historical resources for sustainability. IHRM informs, inspires and mobilizes people to guard their heritage, to appreciate the tangible and intangible dimensions of their history as well as living culture and to spontaneously participate in community-building practices.
Currently the Institute's primary concern and area of activity is to educate people of all ages about the importance of heritage, and how to further properly manage them.
We also aim to mobilize a more respectful attitude toward the value of diversity and humanity, and to contribute to an acknowledgement of the uniqueness of Asian cultures.
Site C:Indonesia
Anang Saptoto
EXPLORING FARMER GROUPS JOGJA X FUKUDA, 2022
Panen Apa Hari Ini (PARI) is an initiative founded by Anang Saptoto in 2020 as an attempt to understand produce distribution in Yogyakarta, Indonesia. Initially PARI was a response to problems in produce distribution into the city because of the pandemic. It later developed into a platform connecting art practices with farming. Each activity is developed as cooperation among artists and art students, food producers, farming enthusiasts, or anyone interested in matters surrounding food sovereignty and community-based resolutions.
On this occasion, PARI would like to introduce food sources and agricultural practices between the City of Yogyakarta, Indonesia, and Fukuda in Kagawa prefecture, Japan. This introduction will use methods that are processed through an artistic approach, such as design practice, photography, video, and events. These various mediums functioned to promote as well as discuss the entire process of interaction between the two community groups.
Artist:Anang Saptoto
Anang Saptoto is an artist, designer, and activist living in Yogyakarta, Indonesia. He completed his education at the Visual Communication Design Department, Yogyakarta Vision Design Academy (2000-2005), and at the Television Department, Faculty of Record Media Arts, Yogyakarta Indonesian Art Institute (2002-2009). His collaborative practice focuses on ecology and social change, using art as a tool to question and open new possibilities. He often supports environmental, human rights movements and collaborates with children, schools, disabled communities, and social organizations. Interaction, building solidarity, and collaboration are methods he considers to be very important for his work. Starting in 2020, he became a collective director of MES 56. At the end of 2020, Anang received support from UN-HABITAT to develop an art and agriculture project (Panen apa hari ini) as an effort for the food movement in the pandemic era. At the end of 2021, Anang received SEED AWARDS The Prince Claus Fund, Amsterdam for 100 world artists.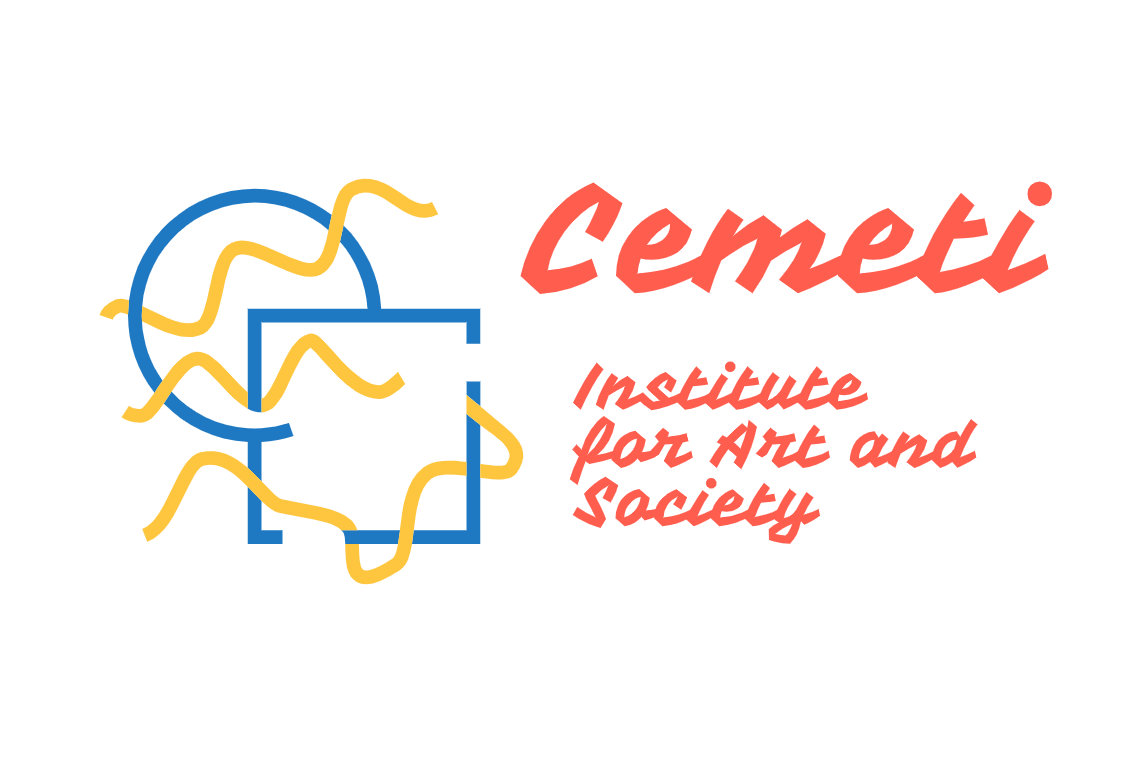 Partner:Cemeti – Institute for Art and Society
Cemeti – Institute for Art and Society (formerly 'Cemeti Gallery', then 'Cemeti Art House') is Indonesia's oldest platform for contemporary art, founded in Yogyakarta in 1988 by artists Mella Jaarsma and Nindityo Adipurnomo. Cemeti offers a platform for artists and cultural practitioners to develop, present and practice their work in close collaboration with curators, researchers, activists, writers and performers, as well as local communities across Yogyakarta. The subtitle 'Institute for Art and Society' was added in 2017 by a new team to express the organization's commitment to socially and politically engaged artistic practices, exploring the possibility for a gallery to act as a site for civic action.
Site D:Hong Kong
Teachers and alumni of Hong Kong Art School
Curator: Fiona Wong Lai Ching and HKAC team
Hong Kong Colours in Shodoshima: A Ceramics Showcase, 2021~present
"Hong Kong Colours" is an ongoing project that aims to rediscover the land we live in. Clay collected from different locations in Hong Kong has various colours and forms a spectrum of colours of Hong Kong.
From local clay to local production, sourcing locally is not only about the choice of materials, but also about the process that how a person discovers and understands a place and live together with it. The project seeks to revisit the relationships among memories, community and the culture of the locality.
This particular time gives us a chance to search within, explore the healing powers of arts and embrace the interconnected moments.
With the support from the Fukutake House team, we are grateful to have a Shodoshima version to present on-site. Local production in each place has its preciousness. As we trace back the origin of materials, we also open up new avenues.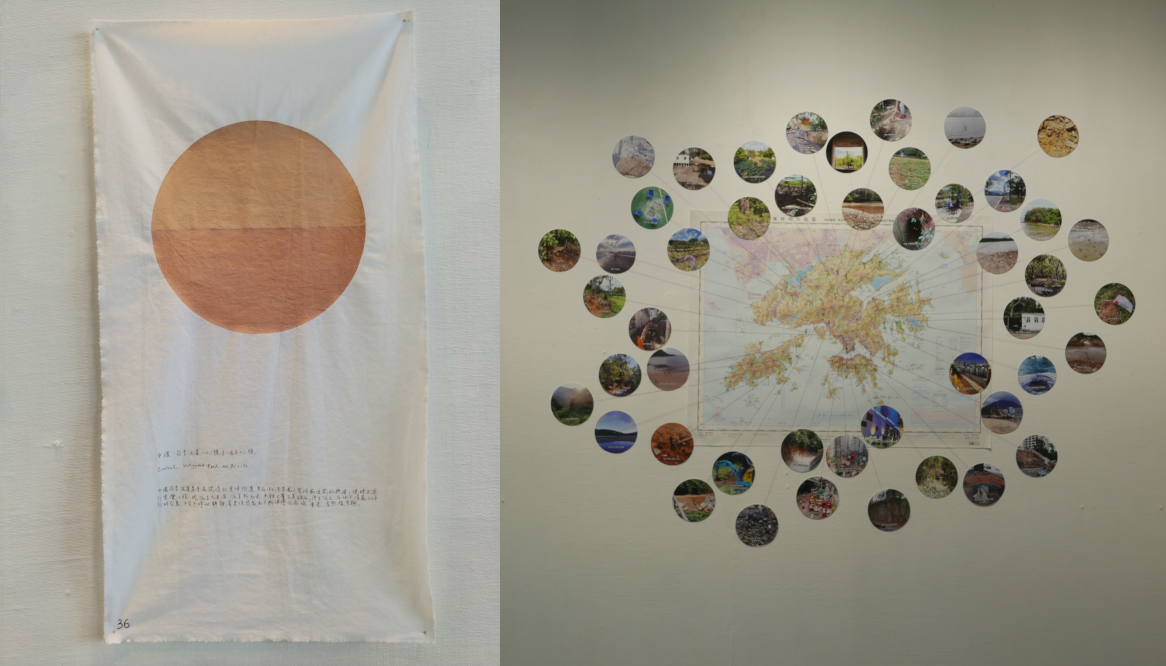 Artist: Teachers and alumni of Hong Kong Art School
Curator: Fiona Wong Lai Ching and HKAC team
The artist group consists of 45 current and former teachers and students of the Hong Kong Art School. Most of them come from all walks of life and later transform themselves into practising artists through studying art with majors in ceramics, sculpture, painting and photography. The local clay was collected from various locations and was painted on fabrics with stories about the artists' affections towards the city, creating a collage of colours of Hong Kong.
The project initiator and curator Fiona Wong Lai Ching is currently a Senior Lecturer at the Hong Kong Art School. She was an invited artist to the Echigo Tsumari Triennale in 2015.
In 2017, she received the Outstanding Contribution to the Development of Arts and Culture Award from the Home Affairs Bureau and was named Hong Kong Arts Development Award Artist of the Year. Her work 'Blue Wings' was collected by the British Museum in 2018.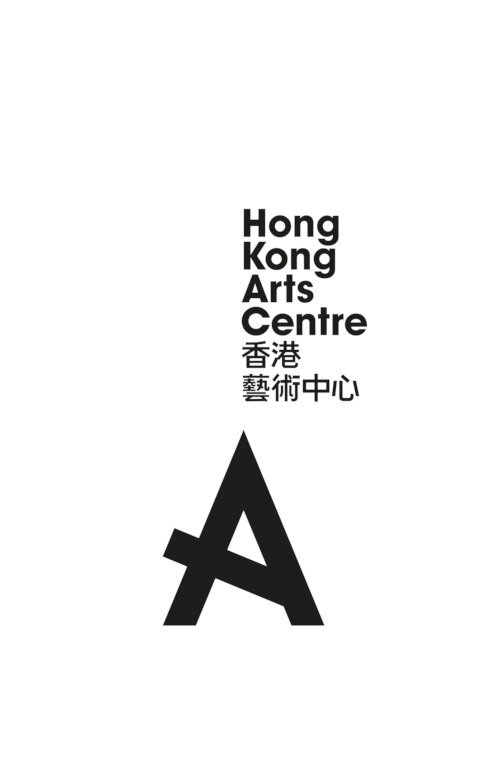 Partner: Hong Kong Arts Centre (HKAC)
Since 1977, the Hong Kong Arts Centre (HKAC) has been a platform for nurturing and supporting artists, and infusing art into everyday life. Established for more than four decades, the HKAC endeavours to bring arts to the people of Hong Kong – by presenting programmes for visual arts, performing arts, moving images and media arts, comics and animation. Our other areas also cover arts education, conferences, festivals, public art and community projects, with the vision and mission of making arts accessible for all. In 2000, HKAC founded its education arm, Hong Kong Art School (HKAS). The HKAC will celebrate its 45th Anniversary in 2023.
Site E: Thailand
Korakrit Arunanondchai & Alex Gvojic
Songs for living, 2021
Stories not only create new realities but they can also change the way we relate to the world around us. Departing from the loss of his grandfather, Korakrit Arunanondchai unfolds stories that carry the idea of grief, transformation, and spiritual power. Made in collaboration with cinematographer Alex Gvojic, Songs for living is a collage of visual languages and musical styles weaving together stories of ghosts, shamans, and a dying sea turtle which are not only metaphors but also the mediums from which processes of becoming and decomposition must pass through. Filmed mid-pandemic, mostly in a relatively abandoned New York, this abstract montage explores possible ways to move forward in the face of loss and grief. Through the mythological references and symbols, the artists simultaneously take up social and political realities of life in Thailand, which is characterized by military rule, monarchy, and pro-democracy protests. The rapid flow of images mirrors our sense of being overwhelmed by life's events. Also, the sound and songs are very important in leading the audience through a polyphonic narrative in which events are testified to the emotional and transcendent impulses of peoples, nations, and beings living under the symbols of higher powers.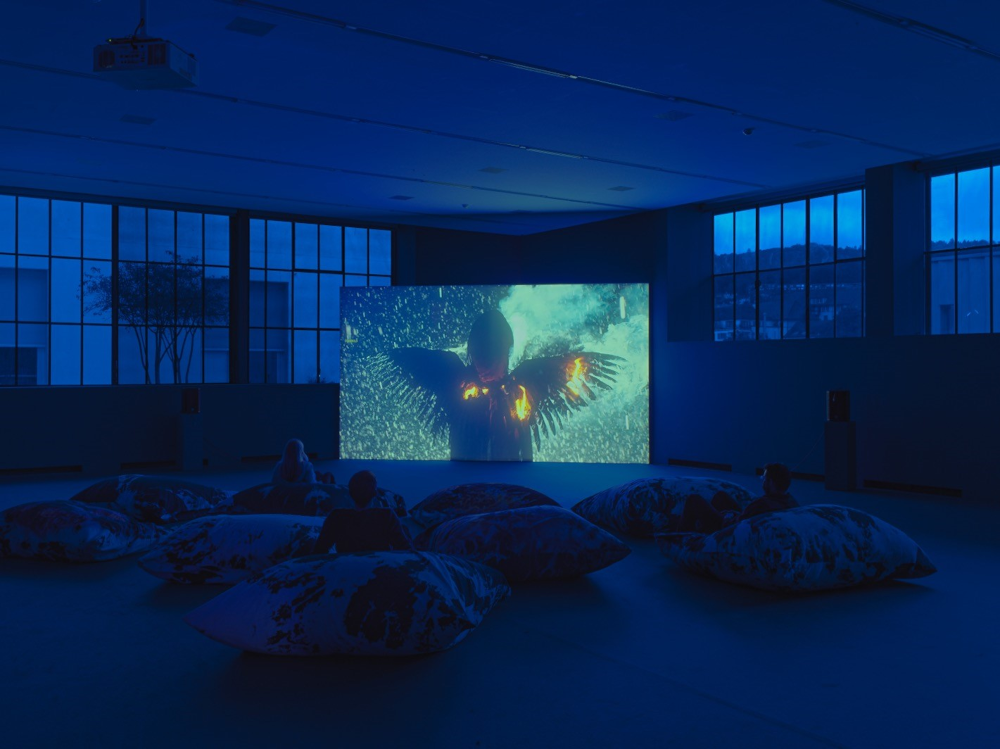 Artist: Korakrit Arunanondchai & Alex Gvojic
Korakrit Arunanondchai focuses on the transformative potential of storytelling. With each project, he expands his cosmos of interconnected stories told through expansive video installations, paintings, objects, and performative works. In his videos, he processes experiences in his personal environment just as he does political events, history and questions to our crisis-ridden present. Arunanondchai often draws upon the cultural contexts in his own biography as well as spaces with postcolonial trauma. Using essayistic and experimental approaches, the artist works with multiple collaborators to assemble audio and visual materials from various sources.
Alex Gvojic, New York based cinematographer and artist, specializes in the interdisciplinary crossing of art, fashion, and music. His work can be seen across international arenas in both the museum and art fair context. Within his breath of multimedia projects, which span from commercial video production to environmental design, each embodies a signature sharpness in both imagery and concept.




Partner: The Jim Thompson Art Center(JTAC)
Founded in 2003, The Jim Thompson Art Center(JTAC) is an art organization committed to fostering artistic activities and endeavours by creating space for contemporary art. The new home of the Jim Thompson Art Center expands its vision by creating an inclusive and multi-functional place for diverse experiences of contemporary art in Bangkok and beyond. Our mission, as we accommodate expanded programs in our new facilities, is to be an inclusive art organization that addresses critical issues emerging in our locale that also resonate with the regional and global community. We collaborate with our extensive network made up of the local community and international cultural institutions to facilitate relevant and meaningful public programs to serve trans-generation constituencies and future generations.
Operator: James H.W. Thompson Foundation*