The October 2015 issue of our quarterly magazine NAOSHIMA NOTE has been published.
NAOSHIMA NOTE is a quarterly magazine published by Benesse Art Site Naoshima, introducing our activities on the islands of Naoshima, Teshima and Inujima. With broad coverage of artistic and architectural initiatives, this publication also documents transformations taking place in the local context of the islands and aims to engage readers to feel, to think, and to act. The contents of the latest issue are introduced below.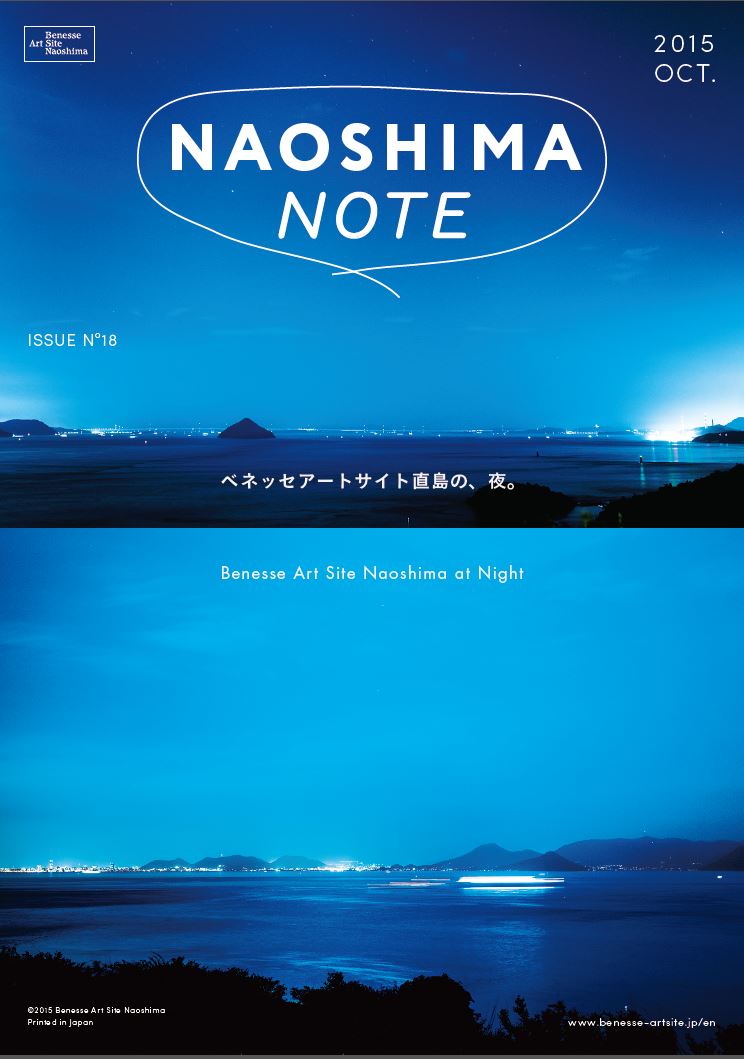 The latest (October 2015) issue contains a special feature on "Benesse Art Site Naoshima at Night," which offers information on ways to experience Benesse Art Site Naoshima after sunset and on into the night. After the autumnal equinox, the sun goes down earlier and earlier during October and November. From October onward, most of the art facilities on the islands that visitors view under natural light close 30 minutes to an hour earlier than during the warmer months. However, while the nights get longer and time spent viewing art by the sun's light shrinks, there are other ways to enjoy your time here after sunset. This issue is your nocturnal guide to Naoshima and other islands, focusing on five topics: 1. Walk. 2. See. 3. Talk. 4. Sleep. 5. Explore other islands. It contains suggestions for a range of activities - a walk along a promenade by radiant moonlight, the night view of the Takamatsu skyline you can see across the water, night-time programs at art facilities, bars and lounges, and accommodations for sleep - that may be too much to cover in just one night, so we hope to see you again and again.

In "THE ISLANDERS," a recurring feature on year-round residents of the islands, we present an interview with Shoji Yamamoto, owner of Yamamoto Orchard on Teshima Island. Mr. Yamamoto says he has "stuck with growing good oranges and lived with mandarins," but in addition to his long career raising Teshima mandarins he has also served as chairman of the Tonosho town council, and put enormous effort into maintenance of scenic rice terraces in the Karato district and the opening of the Teshima Art Museum. In the interview, Mr. Yamamoto shares his experiences thus far and his thoughts on the future of Teshima.

The Fukutake Foundation, which plays a major role in operating Benesse Art Site Naoshima, also provides financial support for regional revitalization in communities throughout Japan. In the section of the magazine entitled "OPINION: Thoughts on the Local Community," we leave the Setouchi region for a bit and turn our attention to various other areas of Japan, sharing columns guest-written by recipients of Fukutake Foundation grants. This issue's contributor is Midori Kubota, chairperson of the non-profit organization "Creative Support" Let's based in Hamamatsu, Shizuoka.
You can access the digital version of NAOSHIMA NOTE here.