The January 2016 issue of our quarterly magazine NAOSHIMA NOTE has been published.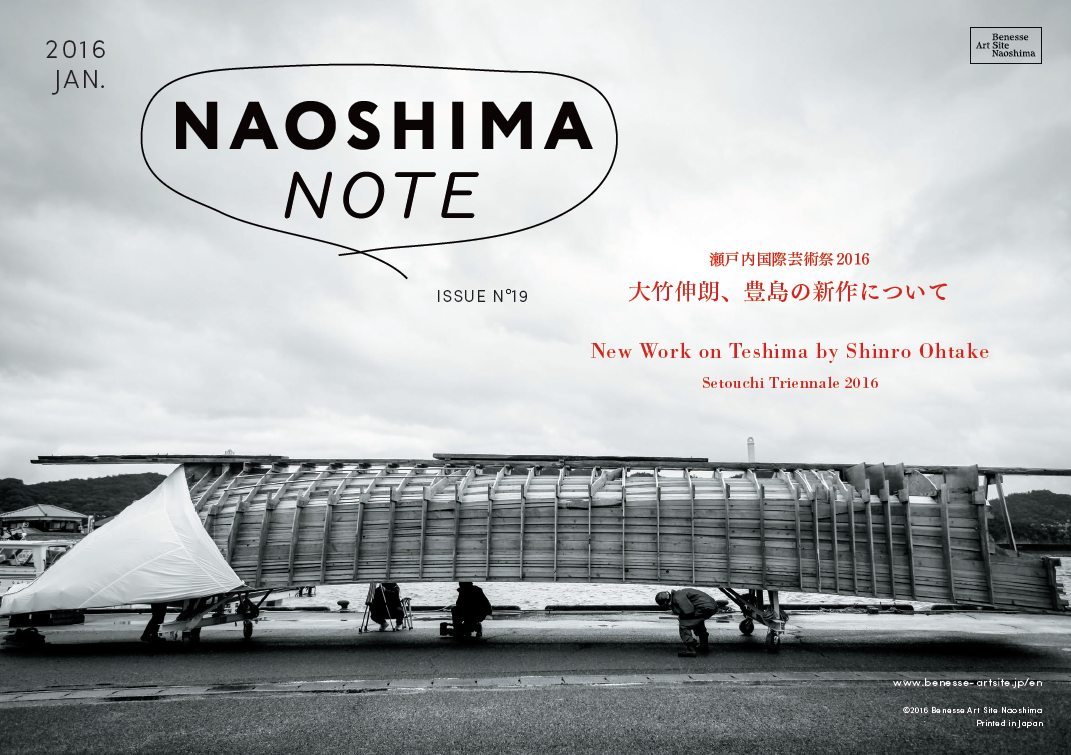 The January 2016 issue contains a special feature on the latest work by artist Shinro Ohtake, which opens to the public on March 20th, 2016. Ohtake has taken a large wooden hull-form, recovered from a shipyard in Uwajima, Ehime Prefecture, and installed it in an abandoned knitting needle factory in the Ieura-oka area of Teshima Island. With this simple gesture, the artist creates a multi-layered message to be unfolded by the viewer. In the magazine, tracing the backgrounds of both the location and the object itself, we get a sense of the history of life by the sea, the economic changes in post-war Japan, and a closer look at the lives of some of the people involved. Experiencing the artwork without such background knowledge is one way to enjoy it; however, the stories behind the work are sure to deepen your experience when you are face-to-face with the piece on Teshima Island.
In our recurring feature "The Islanders," we interviewed Ms. Sachiko Nishioka of Naoshima Island, who has been a great supporter from the very beginning of the ongoing Naoshima Rice-Growing Project, one of the projects originated during the NAOSHIMA STANDARD 2 (2006-2007) exhibition. Ms. Nishioka has been cultivating rice all her life: helping her family as a child, throughout her formative years, and continuing on after her marriage. In this interview, starting with our opening question, "What does growing rice mean to you?" our conversation goes ever deeper as we hear of her life story and how it has centered on the cultivation of rice.
Our column "Opinion: Thoughts on the Local Community" is written by a participant in one of the organizations to which the Fukutake Foundation provides financial support. This time, our contributor is Ms. Yumi Yoshikawa, director of Art Initiative ENVISI. She has directed various art projects in Minamisanriku, Miyagi Prefecture, both before and after the Great East Japan Earthquake hit the area in 2011. She first held an exhibition to revitalize the community in Minamisanriku in 2010, and because of the ties she built with the town at that time, she became greatly involved in restoring structures and providing necessary materials to the people after the tragedy. The community has struggled with its own issues for a long time, so many new problems arose in the aftermath of this traumatic event. At this notable time, five years after the earthquake, we asked her to write about what she has on her mind.
You can access the digital version of NAOSHIMA NOTE here.