The April 2016 issue of our quarterly magazine NAOSHIMA NOTE has been published.
The April 2016 issue of our quarterly magazine NAOSHIMA NOTE contains a special feature entitled "Naoshima Architecture Chronicle―Visualizing the Future of the Town and its People".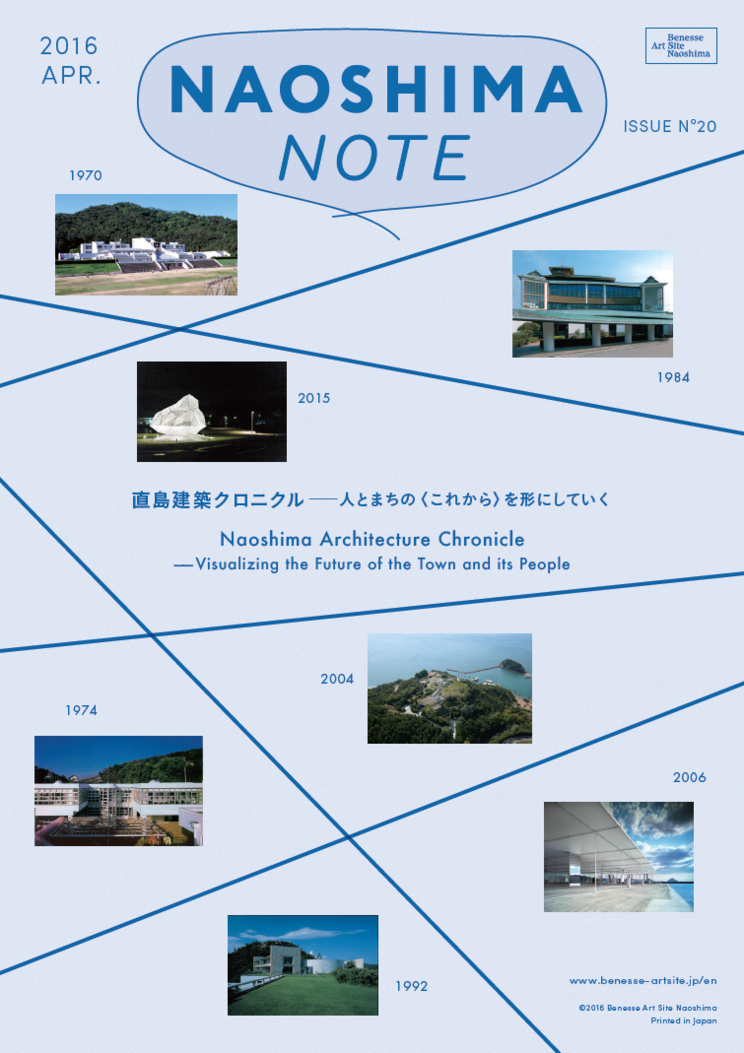 Based around the concept of "autonomous community development" championed by the late Mayor Chikatsugu Miyake, the town of Naoshima has since the 1970s been the site of around 20 building projects by Japanese and international architects. This issue's special feature traces, in the form of a chronology, the people who were involved in creating this architecture, and presents comments from people whose daily lives closely interrelate with it. The past few years have seen new additions: Naoshima Hall, the new community center completed in December 2015, and the LABYRINTH OF CHERRY BLOSSOM created to celebrate the 60th anniversary of Naoshima's establishment as a town. This issue includes messages from the people behind these projects, architects Hiroshi Sambuichi and Tadao Ando and current Naoshima Mayor Mitsuru Hamanaka.
During the spring and summer seasons of the Setouchi Triennale 2016, two special exhibitions on the theme of architecture will be held on Naoshima.
One, entitled Naoshima Architectures: Naoshima Blueprint, re-examines visions for the future of the island, expressed through architecture by the project clients and architects of succesive past eras. The other, called The Naoshima Plan: Hiroshi Sambuichi, presents the concepts underlying Naoshima Hall, designed by Hiroshi Sambuichi in 2015, and the private home Hiroshi Sambuichi built in Naoshima (called "Matabe.") These exhibitions will next be open for viewing during the summer session of the Triennale (and briefly over Golden week, from April 29 to May 5), but we hope the contents of this issue will help enrich your knowledge of Naoshima's architecture beforehand.
For our ongoing series "The Islanders," we conversed with Chieko Tsugita, a resident of Inujima. Ms. Tsugita speaks on a wide variety of topics to visitors of the Inujima Seirensho Art Museum who have just emerged from the museum's Sun Gallery. The old copper refinery (the seirensho in the museum's name) had already closed its doors when she was born, and she shares stories about how she played at the abandoned site in her talks, which she has continued giving for nearly eight years since the museum opened. What drives Chieko Tsugita to keep on telling people the story of Inujima? She discusses this and other topics in the interview.
You can access the digital version of NAOSHIMA NOTE here.