We spoke to two ladies from "Kamedaya", who sell fruit from Teshima at a Needle Factory square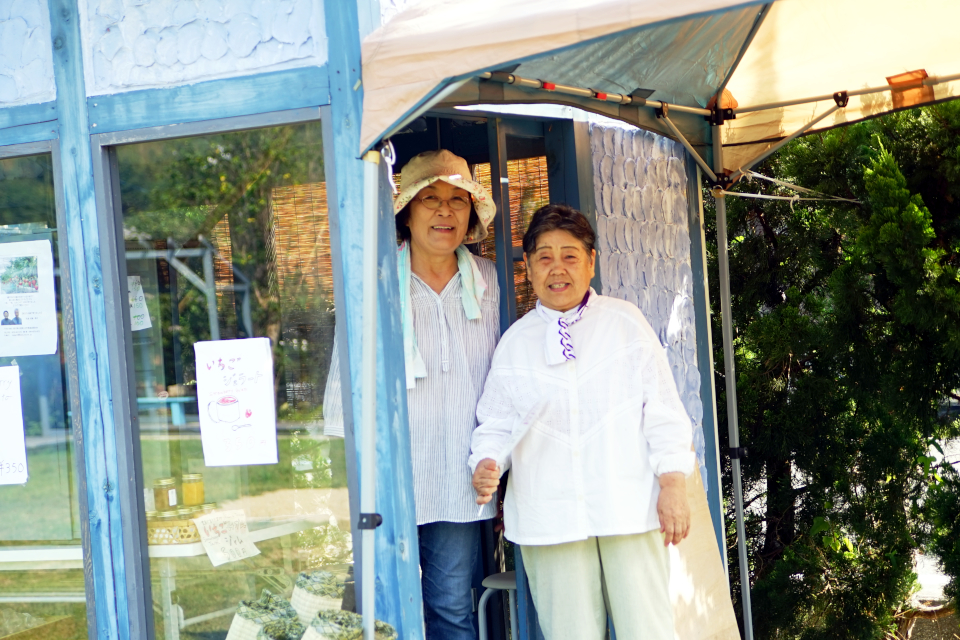 "It's uplifting to chat with visitors. I don't think of it as difficult at all."
"How about some cold gelato? We use strawberries picked here on Teshima!" calls out a cheerful voice at the grassy square at Teshima's Needle Factory. During the periods that the Setouchi Triennale is running (Spring: Apr. 26th to May 26th, 2019. Summer: Jul. 19th to Aug. 25th. Fall: Sep. 28th to Nov. 4th), Ms. Iwanaga and Ms. Yamugi, from a community of ladies on the island known as "Kamedaya," sell Teshima-grown fruit and gelato and jams made from Teshima-grown fruit to visitors of the island.

Ms. Iwanaga told us, "I really enjoy connecting with people. While it's nice to make a sale, it's great to be able to chat with visitors. I've never thought of what we do as difficult or a pain." As well as, of course, for the island's fresh fruit, the ability to chat about Teshima or take commemorative photos together with these spirited ladies seems to be a major reason why so many people stop by at Kamedaya.

"After asking someone where they're from, we talk about strawberries, we talk about Teshima itself. I tell them about myself, and they tell me about themselves. Some people even ask us about the industrial waste. It just feels so great and enlivening to meet and enjoy chatting away with so many different people.", saidMs. Iwanaga.
"I want to do all I can to convince people from all over the world to come and visit."
Looking back on Setouchi Triennale 2019's spring season, Ms. Yamugi told us, "All of the visitors were so fun; I have so many fond memories." She mentioned a time when a foreign lady's pants tore when she sat down. Ms. Yamugi rushed to get a needle and thread from her house and sewed up the tear there and then. There was also a time when she met a student who had not yet found a place to stay, and negotiated with a guest house on the island to let the student stay for a night.

"It's a great chance to convince more people from around the world to come and visit Teshima. Many of us on the island want to do the best we possibly can. It would make us very happy for visitors to go home and tell their families or friends about Teshima.", said Ms. Yamugi.

It also seems that these kinds of exchanges with the local ladies who live on the island help deepen the experiences of those who visit for the Triennale.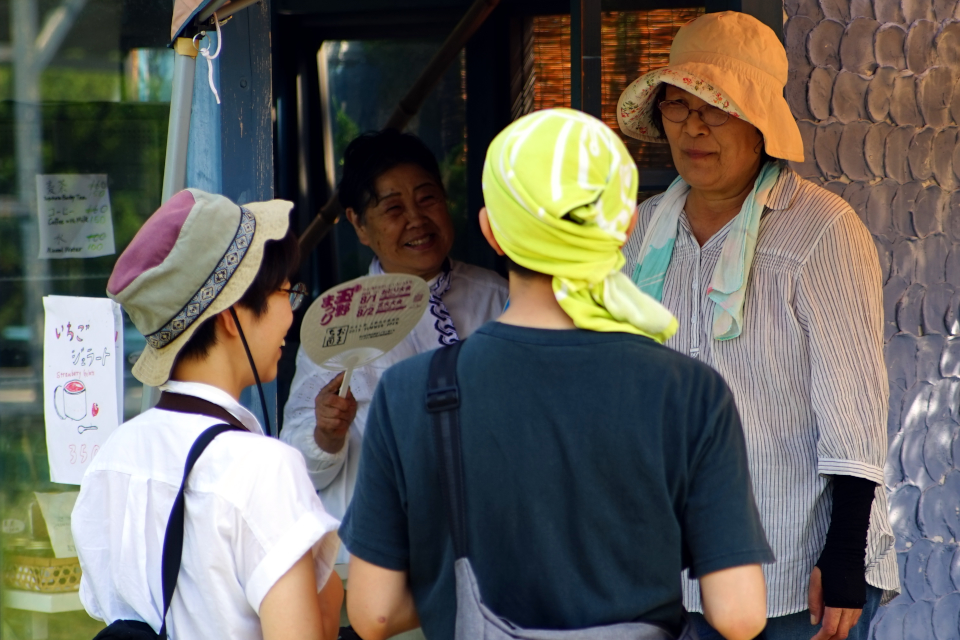 "We started growing strawberries because of the industrial waste problem, and we get to chat with visitors because of the strawberries."
The reputation of Teshima, an island of agriculture and marine industry with abundant water, was severely damaged because of illegal dumping of industrial waste. Approximately 20 years ago, it is said that several families began strawberry aquaculture in a bid to change the tarnished image of Teshima as a "garbage island." Born and raised on Teshima, Ms. Yamugi was one of those people.

"We all got together to discuss what we could do to revitalize Teshima. Even though none of us had any experience farming whatsoever. My dad always worked on boats, so I thought I could do my best farming strawberries. We started growing strawberries because of the industrial waste, and now we can take part in the Triennale and talk to so many visitors because of the strawberries. It's actually quite strange if you think about it.", said Ms. Yamugi.

Strawberries have now become a special product of Teshima. Within the strawberries' gentle sweetness lies the strong desire and continued combined efforts of the people of Teshima to restore pride to the island.